Watoga State Park Foundation Inc.
The Watoga State Park Foundation Inc. was formed in 2015.   It is a nonprofit 501 (c)(3) resource for the park and public.  Most of all the Foundation promotes  recreation, conservation, ecology, history and natural resources of the park.Since its inception, Watoga State Park Foundation volunteers have worked thousands of hours.  Especially relevant is work with park personnel to maintain and restore Watoga's beautiful and historic trail system.  In addition, ongoing projects will provide even better recreation for the park's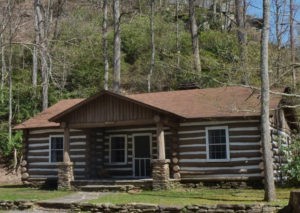 guests.  Furthermore, the Foundation's mission includes attracting more visitors to Watoga.  Of note are the Memorial Park Bench project, the Workman Cabin Restoration, and the Watoga Dark Sky Initiate.  Therefore projects  include updating signs, hosting races for trail runners, raising funds for swimming pool improvements, as well as the aforementioned park bench, cabin restoration and dark sky projects.  The Watoga State Park Foundation also works in closely with community organizations on educational, artistic, and recreational events in the park.
Work on Watoga State Park began in 1934, during the Great Depression. Young men in the Civilian Conservation Corps earned a dollar a day.  They built roads, cabins and other buildings.  They also built trails, stone walls and the swimming pool. The park opened in 1937
WATOGA STATE PARK FOUNDATION MEMBERS
President: John Goodwin                      Athens, Ohio
Vice-President: Louanne Fatora         Frankford, WV
Treasurer: Wayne Pollard                     Marlinton, WV
Secretary: Maureen Conley                   Charleston, WV
Board Members

Mary Dawson                             Buckeye, WV
David Elliott                               Frankford, WV
John Dean                                  Oak Hill, WV
Frank Hammons                       Marlinton, WV
Cully McCurdy                           Marlinton, WV
Nancy McComb Smithson      Marlinton, WV
William McNeel                        Marlinton , WV
Paul Speyser                              Marlinton, WV
Ann Workman                          Hillsboro, WV
Watoga State Park Superintendent, Jody Spencer, ex officio Marlinton, WV
Watoga State Park Assistant Superintendent, Josh Feather, honorary member ex officio Marlinton, WV