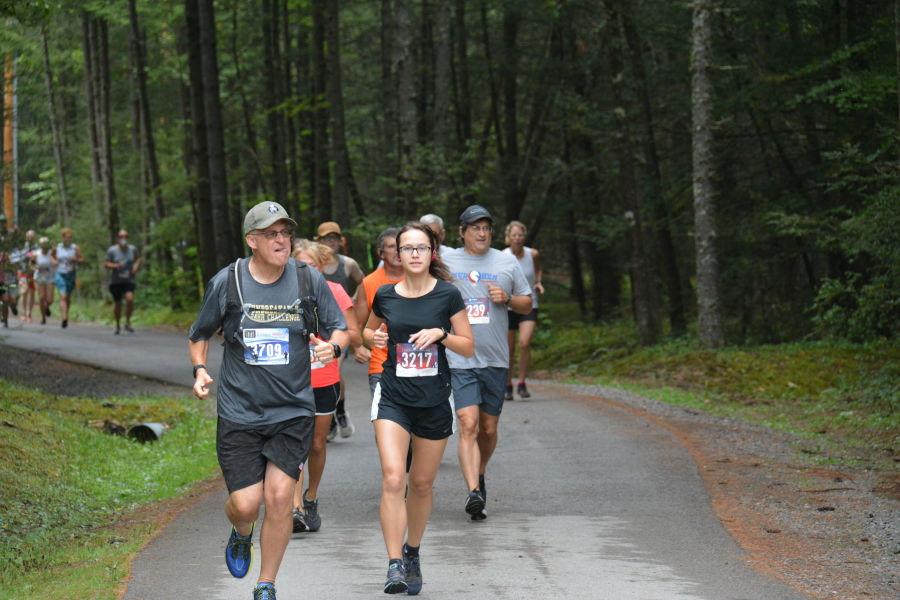 The Mountain Trail Challenge half-marathon and 5K race returns to West Virginia's largest state park on August 13, 2022.
Race, walk, or stroll along beautiful but challenging trails. All ages and levels of athletes are encouraged to participate in this race. Proceeds benefit the park through the Watoga State Park Foundation Inc.
Registration on race day begins on Saturday, August 13, at 6:30 a.m. near the Beaver Creek Campground. Participants are also encouraged to sign up online. Early sign-ups do receive discounts.
The cost of the 5K race registration is $35 until August 7; $40 beginning August 8. Half-Marathon: $55 until August 7; $60 beginning August 8.
The half-marathon begins at 8:30 a.m. and the 5K at 8:40 a.m. Both races will start and end at Watoga's Beaver Creek Campground. So, it is not too early to explore lodging options here at Watoga State Park or other places to stay or dine.
Mountain Trail Challenge Course Details
Each of the courses weaves throughout the park's various trail systems. The 13.1-mile half-marathon begins along the road and airstrip to the Allegheny Trail, which passes through the park, then continues along various single-track trails. You'll climb and descend throughout the course, reaching an elevation of 3,200.
The 3.1 mile 5K race also starts along the grassy airstrip but then turns west into the woods and heads up a ridge through tall pines, hemlock trees, and other hardwoods. Before returning to the grassy airstrip, you'll make your way through a lovely stretch of rhododendrons along Beaver Creek.
Volunteers will cheer you on along the trails and other unexpected places, staffing first-aid stations and providing needed hydration. An after-race cookout is planned as well.
Participants will be welcomed at the finish line with a post-race celebration that includes awards in each race for 1st, 2nd, and 3rd overall, male and female, plus 1st and 2nd in each age group, male and female.
For more information, please visit the race website.
If you have any questions about the Mountain Trail Challenge races, contact " target="_blank" rel="noreferrer noopener">Maureen Conley, Race Chairperson.