Mark your calendar for August 13, 2022 for the return of the Watoga State Park Mountain Trail Challenge Races Half Marathon and 5K. Online Signup here.
It is not too early to make your cabin or campsite reservations.
https://wvstateparks.com/park/watoga-state-park/
Registration for Race Day begins on Saturday, August 13 at 6:30 a.m. near the Beaver Creek Campground at Watoga.
Which race for you? See course description links below, featuring new 3D interactive course maps!
The Watoga State Park Mountain Trail Challenge Races brings trail runners to the park each August for a tough half marathon or a beautiful 5K race on shaded woodland trails. All proceeds benefit the park through the Watoga State Park Foundation. Come run our beautiful trails, meet friendly volunteers, and win prizes!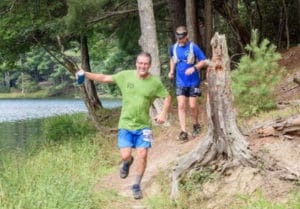 Watoga State Park
4800 Watoga Park Road
Marlinton, WV 24945
What You Should Know

Both races start and finish at the Beaver Creek Campground in Watoga State Park
Age Groups: 14 and under, 15 – 19, 20 – 29, 30 – 39, 40 – 49, 50 – 59, 60 – 69, and 70 +
Awards for each race: 1st, 2nd, & 3rd overall, male and female, plus 1st & 2nd in each age group, male and female. Finisher's medal for half marathon challenge.
Saturday August 13, 2022 8:30am
Saturday August 13, 2022 8:40am
Race Resources Links
WatogaHalfMarathonGpx File Download