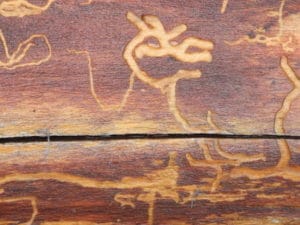 Ancient Petroglyphs found In Watoga State Park? No, these are the feeding trails of the Emerald Ash Borer.  In this case the Emerald Ash Borer is responsible for perpetrating a trick on the human brain, pareidolia. We humans instinctively seek patterns in nearly everything we see. For example, I see an abstract horned creature in one photograph and a coyote in the other.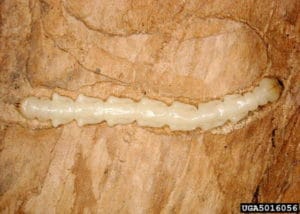 The sad truth is that the ash tree is being decimated by the Emerald Ash Borer at a rate not seen in any one species of tree since the Chestnut Blight of the early 1900s. The white ash is considered "critically endangered" and the population decline is expected to be 80% over the next 100 years. As one forester wryly put it " Without divine intervention we can kiss our ashes goodbye".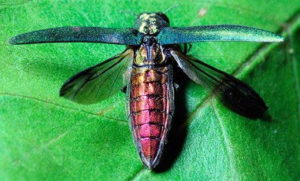 When the Emerald Ash Borer enters the tree it lays eggs. The emerging larvae attack the phloem essentially girdling the tree. They attack trees as small as 2.5 cm in diameter, long before it is mature enough to produce viable seed.   This virtually ensures 100% mortality of the species.  Emerald Ash Borer Critically Endangers Ash Trees.
Invaluable Qualities of White Ash Wood
White ash is valued for its strength and straight grain. It is used for everything from furniture to tennis rackets and baseball bats. I have an old pair of snowshoes that hang on my wall.  They are made of ash. We will miss this tree just as we miss the chestnut, the elm and all the other species that have been the victims of parasitic attack.
In ways we are not now aware of we will sorely miss all of the wild things that go the way of the passenger pigeon. When the last ash tree is gone, we will be all the poorer for it.
With that in mind I leave you with a poem that speaks to the love, utility and admiration of the Ash tree.
The Firewood Poem
Beechwood fires are bright and clear
If the logs are kept a year,
Chestnut's only good they say,
If for logs 'tis laid away.
Make a fire of Elder tree,
Death within your house will be;
But ash new or ash old,
Is fit for a queen with crown of gold
Birch and fir logs burn too fast
Blaze up bright and do not last,
it is by the Irish said
Hawthorn bakes the sweetest bread.
Elm wood burns like churchyard mould,
E'en the very flames are cold
But ash green or ash brown
Is fit for a queen with golden crown
Poplar gives a bitter smoke,
Fills your eyes and makes you choke,
Apple wood will scent your room
Pear wood smells like flowers in bloom
Oaken logs, if dry and old
keep away the winter's cold
But ash wet or ash dry
a king shall warm his slippers by.
By Lady Celia Congreve
Keep on hiking my friends,
Ken Springer