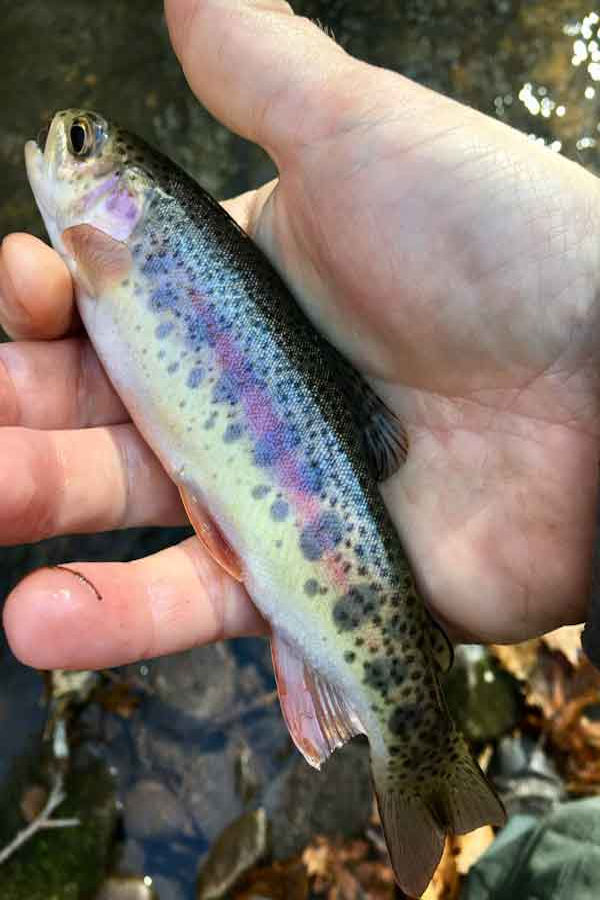 How did West Virginia Become Known as "Wild and Wonderful"?
Have you ever gone fishing for wild rainbow trout? Do you have a "Wild and Wonderful' rainbow trout fishin' story to share? Well, I have. And here is my fishing story.

From a pet deer to a black bear, those carefree days in the late 1960s for Ronnie and I were "Wild and Wonderful" action-filled adventures while Growing Up at Watoga State Park. In reality, my mom, my brother and I used those words before then-Gov. Arch A. Moore, Jr. did so at a 1969 speech at The Greenbrier in White Sulphur Springs.
In 1975, the phrase "Wild and Wonderful West Virginia" became part of West Virginia's welcome signs, marketing materials and license plates, and stayed put until 1991. After a 16-year absence, that slogan was instituted once again in 2007 after it beat out the popular taglines "Almost Heaven" and "The Mountain State."
Back to 1969, when sometimes mom would refer to Ronnie and me as "wild!" Neither of us knew that "Wild and Wonderful" would become synonymous with our home state. At the same time, we were too occupied with "Wild and Wonderful" activities enveloping us at Watoga State Park and Calvin Price State Forest near Marlinton to pay much attention to such words. With this in mind, here's one of my "Wild and Wonderful" rainbow trout fishing adventures.
Snakes, Arrowheads, Fortresses, and Freckles, our Pet Deer
On that overcast spring day, Ronnie and I create names for the various cumulus cloud formations. We see dandelions too, but mostly feel them squish between our toes, as we run "wild" discovering "wonderful" treasures like snakes, arrowheads and old fortresses hidden deep within the woods past the airstrip near the state forest.
"Johnny, look at that huge trout way up there!" Ronnie exclaims. "See it?"
"Yeah, but do you see Freckles?" In this case, Freckles was our pet deer in 1968, and now a popular resident at French Creek Game Farm (later renamed the West Virginia State Wildlife Center) near Buckhannon.
Wherever Ronnie ventures this April day, I try to follow. Sometimes I am successful; other times not so much. After all, he's my big brother, my hero, my teacher. Ronnie is 11. I am three years younger. So, one rainy evening near dusk, at the Beaver Creek Campground, we dig into the damp soil to collect about two dozen night crawlers, and then drop them in a blue, white and orange Maxwell House coffee can.
The "Wild and Wonderful" Fishin' Pole
The next day, Ronnie asks "Hey Johnny! Wanna come with me?"
"Yeah, sure. But, what we gonna do?"
Naturally, I am excited to tag along no matter where it is or what we might do. As a matter of fact, it isn't often that Ronnie invites me to go on one of his journeys throughout the park.
"We're goin' fishin' then! C'mon, let's go to Laurel Run." Laurel Run is one of Ronnie's favorite spots to journey off to by himself and leave me standing at the intersection to either Burr Valley or the park superintendent's residence.
"Johnny, go git that ole coffee can we had last night. Those are our fishin' worms. You're gonna catch a big, ole trout today!" Of course, I ran full steam ahead to our secret hiding place behind the maintenance garage, close to the rustic campground.
To begin this "Wild and Wonderful" rainbow trout fishin' story, Ronnie and I find two fallen branches from an oak to serve as that day's fishing poles.

First, Ronnie finds some dirty tennis shoe strings to be our bait lines. Second, he coaxes me into snagging some safety pins from Mom's sewing box, neatly tucked beside her Singer sewing machine. Third, some aging yellow twine becomes our fishing lines. Fourth, Ronnie ties a knot a few inches from the limb's base and then winds the string along the four-foot branch to the end of my brand-new fishing apparatus. Finally, he secures a small pebble to the end of the string as a weight. Mom's safety pins are our hooks.
Learning how to Reel in a "Wild and Wonderful" Rainbow Trout
To begin with, Ronnie shows me how to drop my improvised fishing line into Laurel Run. I hear a subtle splash as the stone and the night crawler enter the sparkling mountain waters. We wait for our lines to sink deeper. Not only does Ronnie help me to move the pole slowly back and forth, but also he teaches me how to bring the rod closer to my body, and then to lift it out of the water.
"Ok, do it again, Johnny. Throw the line back out there in the middle of that hole. You'll git the hang of it. I know ya will." And I repeat this several times. After a few minutes, Ronnie asks if there's been a bite yet.
"No, I don't think so. How would I know?"
"Oh, you'll know all right. When a trout that's bigger than you pulls, you'll be learnin' how to swim all the way to the pool and back again!"
So, we wait. And then wait some more. I notice Ronnie looking into the nearby cluster of oak and pine trees. I look too, noticing a few deer cautiously observing us standing in one of their water sources. Naturally, I wonder if Freckles is making new friends at the game farm.
Seeing my First "Wild and Wonderful" Rainbow Trout
Then it happens. I feel a tug at last. Without delay, Ronnie calmly wades over, tells me to firmly hold my pole and to guide it toward me, and finally to lift the catch up and out of the water.
"See it, Johnny? Would ya look at that? Look, it's beautiful and check out those colors!"
"Oh my gosh, Ronnie. I can't believe it. I caught a fish! Look, I caught him!"
"Yeah, Johnny, you got one all right. You just caught your very first wild rainbow trout! Way to go! Would you look at that? Talk about a beaut!"
At this point, I continue to admire the "Wild and Wonderful" rainbow trout's subtle blues and greens. Those hues on its slender body mesmerize me.
"You wanna keep it? It's up to you."
To say the least, I am ecstatic to catch my first fish with Ronnie's help. Even though it isn't a trophy-sized catch, and most likely a baby, that "Wild and Wonderful" rainbow trout lives to swim another day in the crystal-clear waters of Laurel Run. I never became an expert angler like Ronnie, but whenever I see a rainbow, the array of colors reminds me that fishing for wild rainbow trout is just one of my many colorful "Wild and Wonderful" Watoga adventures.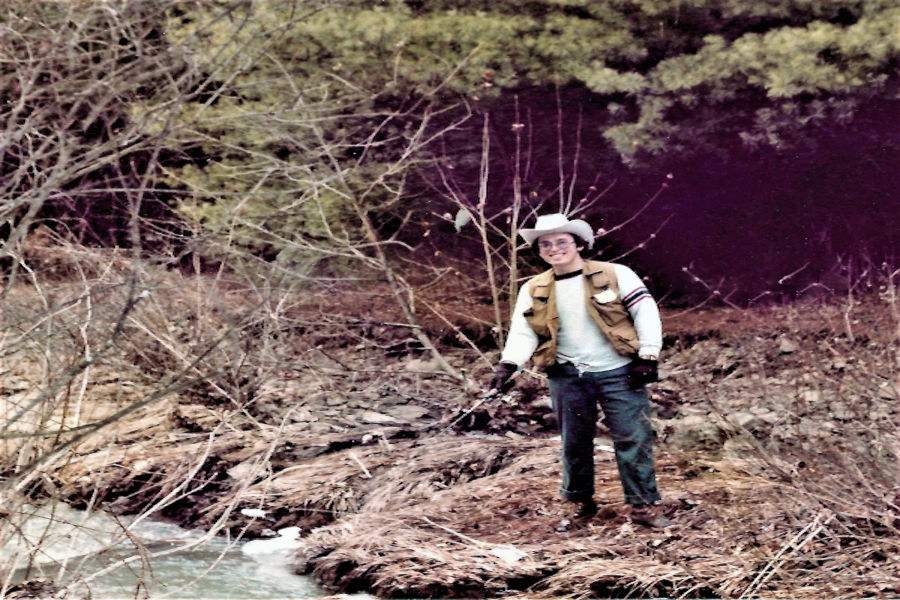 Where Will Your "Wild and Wonderful" Adventure Take Place?
The West Virginia Department of Natural Resources stocks all four types of trout at Watoga Lake (rainbow, golden rainbow, brook, and brown trout) at some point throughout the year. Trout are not stocked at Laurel Run. Visit the DNR website for to decide where you will catch your next "Wild and Wonderful" trophy-sized fish.

Let's go fishing for wild rainbow trout! It's sure to be "Wild and Wonderful."
John C. Dean lived at Watoga for 16 years from 1960-1976, until his dad, Vernon C., retired after 43 years of service with the West Virginia Division of Natural Resources. He can be reached at " target="_blank">