Part One
This is the untold story of the black bear. While it may be true that watching a black bear can be fascinating, seeing one up close and personal is not always a pleasant experience.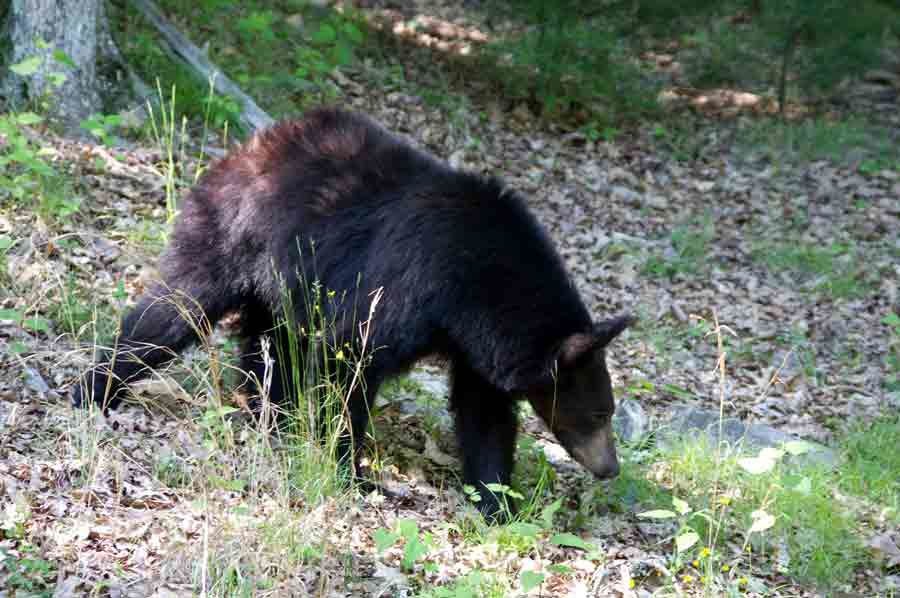 The Secretive, Shy, Intelligent Black Bear
During that magical summer in 1971, there had been endless bicycle rides to the scenic overlook at T.M. Cheek Memorial and carefree plunges into the mountain-fed waters of the Watoga State Park swimming pool.
Later that fall, I met THE black bear.
To begin with, the deep red leaves on the oak trees were at their peak. Similarly, the smell of fall was in the air.

Consequently, my brother, Ronnie, and I learned about West Virginia's future state animal – the secretive and shy, but intelligent black bear. However, it wasn't until 1973 that the black bear became West Virginia's designated mammal.
My dad, Vernon Dean, worked at the park. We lived near the Beaver Creek Campground. Moreover, our home was just a stone's throw away. Dad, along with Richard Dale, park superintendent, and his teenage son, Jerry, taught Ronnie and me about this magnificent species.
Additionally, we learned that black bears average between 125 and 550 pounds. They mainly eat acorns, pine nuts, fruits, berries, grasses, and other vegetation. Another key point is the black bear has a lush playground in which to thrive in at Watoga State Park, nearby Calvin Price State Forest and Monongahela National Forest.
As a camper, cabin guest or resident, you may have seen a black bear during a leisurely bike ride, a hike on one of the park's many trails or even in the backyard of your favorite cabin at Watoga.
Basically, in 1971, bears were not as common as they are today. When you chat with residents of Marlinton, Hillsboro, Seebert or Huntersville, you may hear a vivid tale or two about their encounters with a black bear.
The Untold Story of the Black Bear Begins
"Come here, I wanna show you boys sumthin'," Dad said. "Maybe you'll learn a thing or two."
"What is it, Dad?" I asked.
"You'll know soon enough. Just come with me. Hurry up, Ronnie and Johnny!"
At this instant, leaving the babbling brook next to our home, Ronnie and I ran excitedly toward the park's maintenance garage, just below the rustic campground.
"See it, Johnny?"
"No, Dad, what is it?"
"I see it, Dad," Ronnie said, "and would you look at that? Wow! Oh my gosh!"
"Look at what, Ronnie? What is it?"
"You don't see it, Johnny? Really?"
"No, not yet. What is it? Where?"
"Come closer, Johnny," Dad instructed. "And you'll see."
I did move closer. Much closer. Amazed, shocked and stunned, I didn't dare move an inch.
So WHAT just happened?
To conclude, please email me at with your creative finale. To this end, any social media contacts may post on my Facebook page. I will share selected endings in a future blog. Part Two will be the never-before-published story of THE black bear at Watoga State Park.
About the Author
John C. Dean is a graduate of West Virginia University, 1984, BSJ. Additionally, John lived on-site at Watoga for 16 years until his dad, Vernon C., retired after 43 years service with the West Virginia Division of Natural Resources. He can be reached at .