For the last 21 years visitors to Watoga State Park have driven by Jack Horner's Corner as they make their way through the village of Seebert, the gateway to the park and a major trailhead on the Greenbrier River Trail. Longtime visitors have observed the steady growth of the building and parking areas; the old building removed, decks added for dining with a view of the river and bike path. Horner's Corner is strikingly colorful with stacks of kayaks, floatation devices and bicycles.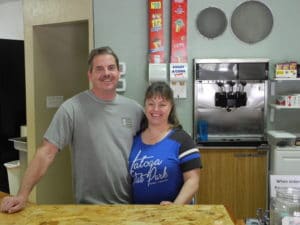 Stewart and Chrissie are at the helm of this growth, anticipating the needs of the community and the thousands of visitors who stop by every season, which for Horner's corner is sometime in April until November. This large, well designed building houses a pizza and sub parlor, a huge array of souvenirs touting Watoga State Park and the Greenbrier River Trail as well as basic groceries and drinks.
Kayak Rental and more…
You can stop in to rent a kayak for a river trip on the Greenbrier River and arrange a shuttle. The same service is offered for those wishing to ride a bike on the 80 mile Greenbrier River Trail.
Their ice cream cones have become legendary; I have never been in there in the summer months without a queue waiting for a cool treat. One chap who wanted to remain anonymous told me he cannot go past the place without getting an ice cream cone. OK you have twisted my arm; it is Mac Gray. Mac lives just a few doors down so that amounts to a heck of a lot of ice cream. Sorry Mac, I am terrible at keeping my sources confidential.