A variety of lodging options are available.  Rental cabins and campgrounds are within the park.  National Forest Campgrounds are close by.  Beds and Breakfast and motels are also reasonably convenient.
The first cabins were built by the C.C.C. in the 1930s. They make a special place to stay in the wilderness. Check early for reservations, as they are popular.
Last year, when people came to Beaver Creek for the races Saturday morning, one comment heard a number of times was, "Why, we could have camped right here!" Both races start and finish at the campground check-in station, and the big tent for the post-race lunch is right there, too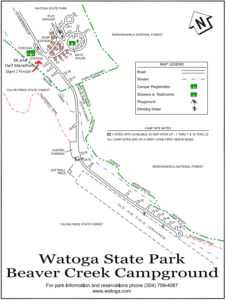 . The thirty-four regular campsites are unreserved, and the park will allow overflow tent camping on the airstrip, making the campground a virtual village of trail runners that weekend.
This popular campground has both reserved and unreserved sites. It's 4 miles by road from there to Park Headquarters along beautiful Island lick Run, then another 3 miles to Beaver Creek Campground. Campers can check in at either campground. Both campgrounds have showers and restrooms, dishwashing stations with hot water, and playgrounds.