Have you ever ventured out on Monongaseneka Trail here at Watoga State Park?  I highly recommend it. The trailhead is located a mere 1/2 mile up the main park entrance road.  Just after crossing the newly restored bridge across Isle Lick you will see the parking area on the right, with the start of the trail across the road and on your left.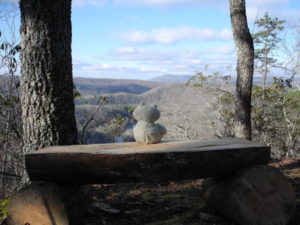 This 2 1/2 mile trail follows switchbacks up the mountain, drops down into Jeff's Hollow before ascending again to the main ridge high above Seebert and the Greenbrier River. From here you can hike the Overlook Loop out to the overlook where you can sit a spell on the benches before resuming your hike out to the North Boundary Trail.
Monongaseneka Trail Options
The are several ways you can make this a longer day hike by shuttling a car to Bear Pen Trail or the parking area at the picnic shelter. My favorite way of hiking this trail is to leave a bicycle at the park headquarters, then drive down to the Mongaseneka trailhead and leave your car there. Hike up Monongaseneka to North Boundary Trail, Down Bear Pen Trail all the way to Watoga Lake. From here you can hike the Lake Trail either direction until arriving at the park headquarters.
Now this is where the fun begins: you have just completed a long and beautiful hike and now you get on your bicycle and coast down the main entrance road back to your car. The whole while Isle Lick is noisily alternating from one side of the road to the other; a series of cascades and pools. It doesn't get any better than that.
I spent a couple days up on Monongaseneka trimming striped maple and removing smaller debris off the trail. I couldn't pass up the opportunity to use the new benches at the Monongaseneka Overlook, courtesy of John Casto and crew.  A selfie is something I am not inclined to do, in large part because I do not want to mar the great scenery. So instead I borrowed Mr. Frog from one of my dogs and created a "frog's eye view " from the overlook.
Jeff Hollow
The largish double-trunk tree can be found in Jeff's Hollow along with many others of similar size. There is a palpable sense of entering a special place here which can only be felt by being here; it is hard to translate the feeling with mere words. Some places just seem to be sacred; when there we are quite sure that there is a spiritual dimension to the deep wood. And for a while we carry that feeling with us until it beckons us back again.
"Climb the mountains and get their good tidings. Nature's peace will flow into you as sunshine flows into trees. The winds will blow their own freshness into you, and the storms their energy, while cares will drop off like autumn leaves." John Muir