"We are the Copperheads — the mighty, mighty Copperheads. Everywhere we go, people wanna know, so we tell them."
This chant is still the battle cry for Marlinton Middle School today as it was at my ole stompin' grounds in the 1970s. Regardless, I am not a fan of snakes! Without a doubt, those copperheads are "mighty," but the chants remind me of a not so pleasant day at Watoga State Park.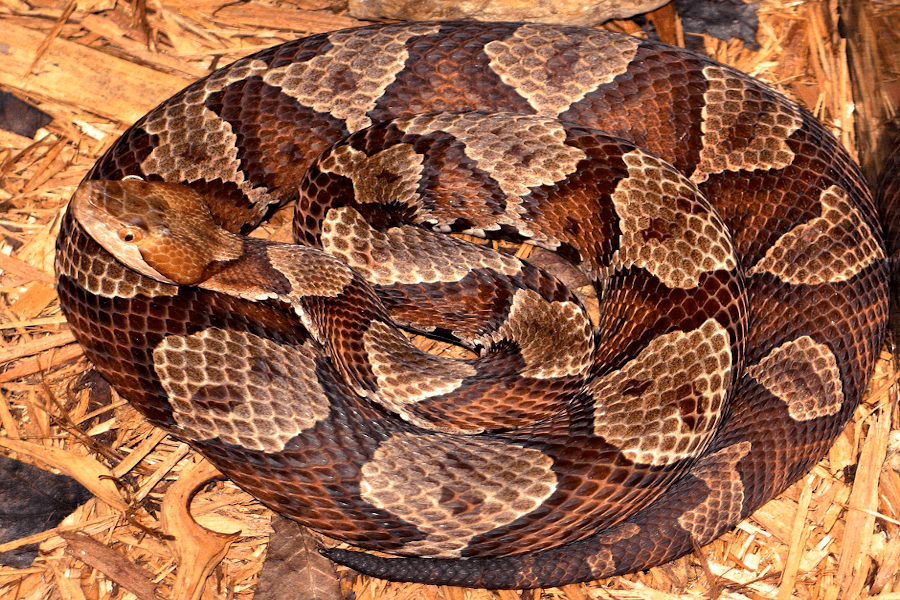 Nonetheless, it did not help my fear of snakes that my junior high school's logo and cheers revolved around the copperhead snake. During this era, everyone is proud (except me and maybe a few others who wouldn't admit it) that "we are the Copperheads."
"The fight or flight response, or stress response, is triggered by a release of hormones either prompting us to stay and fight or run away and flee."
Freeze! It's the Mighty, Mighty Copperheads
Just a quick note about the copperhead snake and I'll get right back to that scary encounter with one at West Virginia's largest state park.
Found in the eastern U.S., the northern copperhead (Agkistrodon contortrix mokasen) is a venomous pit viper subspecies. The copperhead's average length is between two and three feet, and its diet consists of rodents, insects, small birds, and amphibians. In the Mountain State, the copperhead's home is in wooded and rocky areas, and it does not actively seek human contact. Copperheads often lie still (like "freezing"), but will strike if people unknowingly step near them or on them (like I almost did).
The Trouble Writing About Copperheads
Since some experts suggest that writing about your fears helps allay them, this is my feeble attempt at accomplishing that. However, my previous attempt writing about black snakes didn't cure me. I double-checked; yep, still scared.
In particular, I think that almost being stricken at such a young age by a copperhead may have been the traumatizing event that triggered this deep-seated lifelong fear. And, I am not so sure that I would be writing this story if not for my mom.
Until now, I have never written about this topic. I could blame writer's block (such an easy excuse to avoid the real reason), but that's not really the case. So, in essence, here's my best recollection about that twisted copperhead.
The Jumpman Pose Before Michael Jordan
Ronnie and I are tossing a baseball in the front yard of the conservation officer's residence, near the north entrance to the park. This cabin is nestled next to a narrow mountain stream where we often caught tad poles, minnows and frogs. Specifically, we are enjoying the chance to run carefree and relieve some of that winter's cabin fever.
In the meantime, mom is sitting in the brown wooden rocker on the front porch. All of a sudden, mom instinctively spots a copperhead and issues a warning cry that a viper is about to strike me!
"Johnny, watch out. There's a copperhead! Run!"
Rather than doing what mom instructs, I instead look down and see what lurks below. And, somehow, someway, I leap up and outward.

When I first saw the Michael Jordan Jumpman logo for Nike decades later, it conjured up images of me leaping skyward over the dreaded copperhead. All right, maybe that was more related to my basketball days as a Marlinton Copperhead!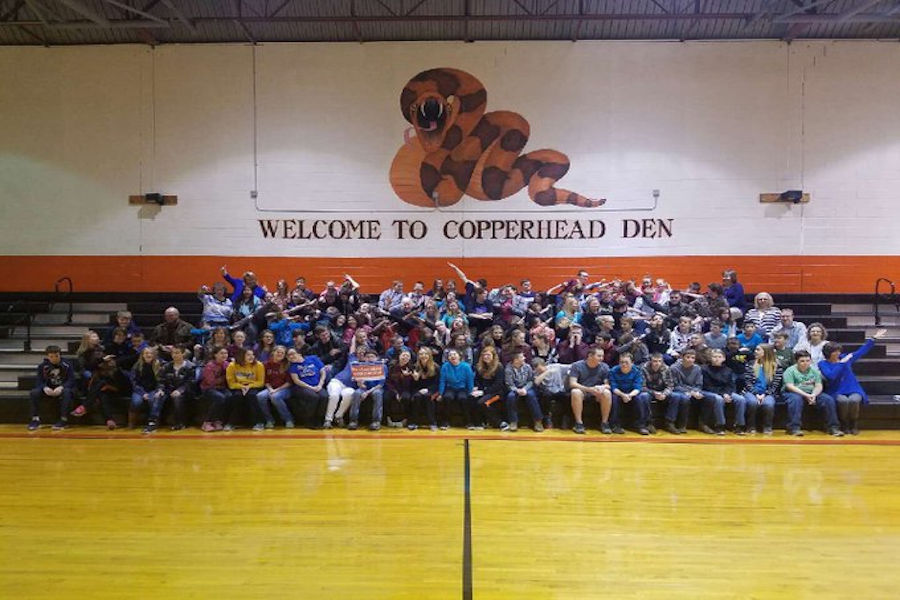 On the other hand, mom's well-timed alert about the copperhead snake may have not only saved my life, but it also taught me to pay closer attention to my surroundings – beneath, above, beside, in front of, and behind, and above.
At least, that is how I like to recall that warm spring day in the late 1960s. Years later, Ronnie would still tease me by comparing my screams that day to the wheel screech of a Shay No. 5 making a sharp turn on the downward descent from Bald Knob at Cass Scenic Railroad State Park.
On the positive side and fortunately for me, I did not feel the viper's sting that day and, needless to say, I avoid ALL snakes at ALL costs. Oh, I said that already, didn't I?
It's Your Choice — Fight or Flight the Coopperheads?
What do you do when you see a copperhead snake? Run like the wind? Stand your ground and fight?
While trying to write about this fear of snakes (Ophidiophobia or ophiophobia), I came across what happens to your body during a stressful situation — be it your memorable encounter with a coiled and ready-to-strike copperhead snake at Watoga, a road rage incident about to intensify during your morning rush hour commute or a vicious dog ready to pounce during your peaceful morning stroll.
Regardless of the specifics of each encounter, you now must decide: fight or flight.
"The fight or flight response, or stress response, is triggered by a release of hormones either prompting us to stay and fight or run away and flee," explains psychologist Carolyn Fisher, PhD. "During the response, all bodily systems are working to keep us alive in what we've perceived as a dangerous situation."
What Happens to You Physically?
According to The Cleveland Clinic, during the stress response, the following may occur:
Your heart beats faster and your blood pressure goes up.
Your pupils dilate.
You have a muted response to pain.
Your skin is flushed or pale.
You may lose control of your bladder.
You are more observant of your surrounding and your senses kick into high gear.
Stress hormones flow throughout your body, causing trembling or twitching.
Your memories can be affected – not recalling details accurately or even blacking out vivid memories.
And If You Smell Cucumbers . . .
While some of my vivid copperhead snake memories may be difficult to remember in 2020, I do recall with specificity the sage advice my mom repeatedly imparted upon me when venturing into the expanse of Watoga's 10,000 acres of pristine beauty.
"Johnny, if you smell cucumbers, it means there is a copperhead nearby, and you need to run!" And run I do – even to this day!

P.S. While I do have an intense fear of all snakes, it never has and never will stop me from enjoying my favorite place in the World — Watoga State Park!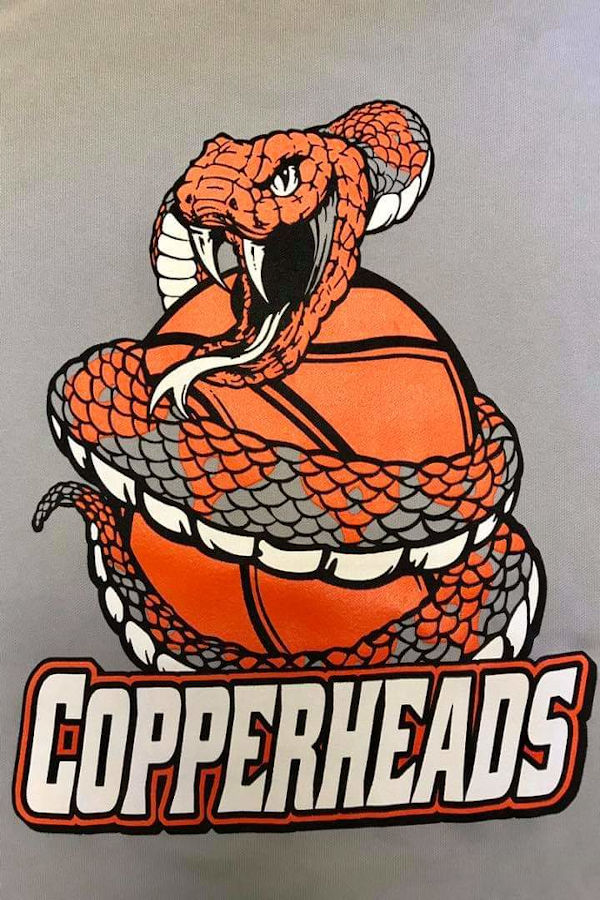 About the Author
John C. Dean lived at Watoga for 16 years from 1960-1976, until his dad, Vernon C., retired after 43 years of service with the West Virginia Division of Natural Resources.