Watoga dark sky good for bats. Cindy Sandeno, District Ranger of the Marlinton/White Sulphur Springs Ranger District, visited Watoga State Park this past Saturday evening to teach an assembled group of campers, park employees and other interested parties why we need bats, and why they now need us. Sandeno discussed light pollution and how bats and humans can benefit by installing downlight fixtures.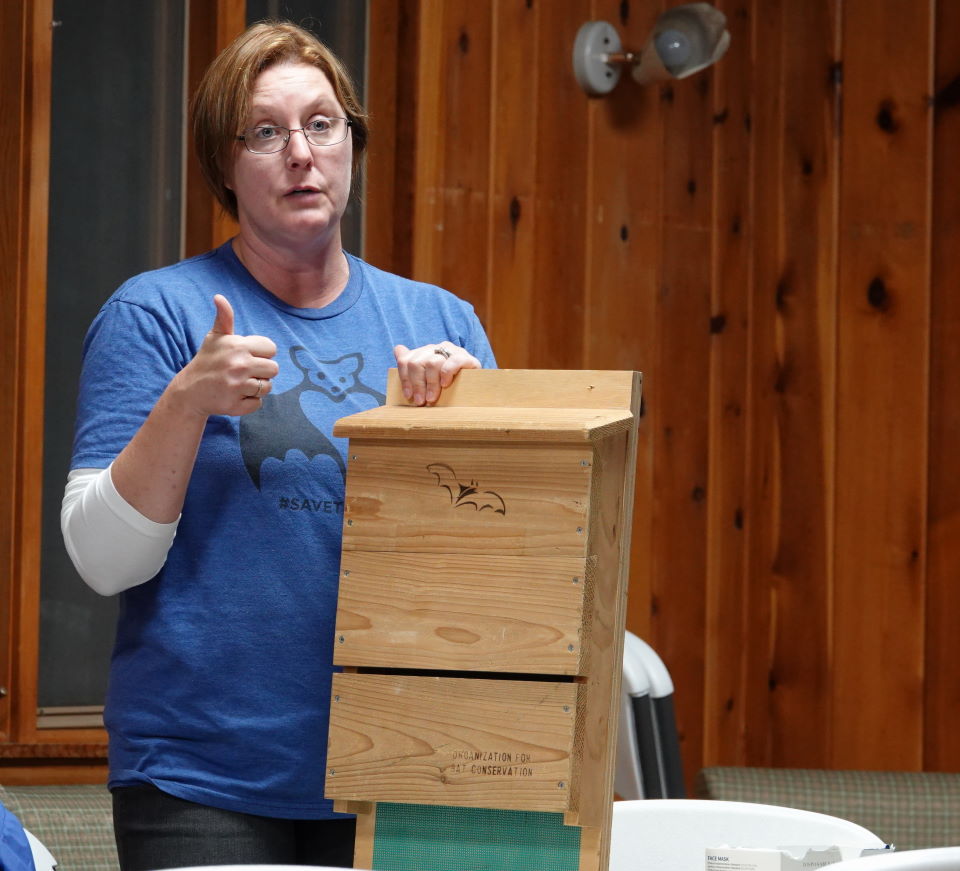 Cindy, whose background includes managing regionally threatened, endangered, and sensitive species for the Forest Service spoke about the diminishing population of bats throughout the country and the profound effects that spell for the environment and agriculture.
As the National Cave and Karst Coordinator for the Forest Service, and her experience spelunking in the U.S. and Mexico, she has a deep appreciation for the plight of these fascinating creatures who silently do so much for us.
It's a thankless job being a bat when you consider that most people still regard them as they did in the Middle Ages; as vermin of the night whose only purpose is to spread disease and worse. Many associate bats with witches and vampires, and as creepy creatures who enjoy becoming entangled in our hair – not a problem for me, of course.
In truth, bats are pollinators, they are distributors of seeds, and they are estimated to save $3.7 to $53 billion dollars per year as non-toxic pest control agents. And, if you take the time to learn about bats, you will learn that they are wonderful parents of their young and, all in all, bats are quite cute.
Many bat species are threatened by diseases such as White Nose Syndrome that is responsible for the death of 5.7 million bats since 2006. On top of that, much of their habitat is at threat due to light pollution. Watoga State Park is a candidate Dark Sky Park and is a favorable bat habitat.
But you can help save these beneficial critters just educating yourself, friends, and family members about bats. Bat Week is designated from October 24th to the 31st every year.
I was definitely motivated by Cindy's presentation; so much so that I decided to build a bat house.
A great way to learn more about bats is to visit the Project EduBat at https://batslive.pwnet.org/edubat/