Watoga State Park  has a new distinction.  It was made official yesterday when Park Superintendent Jody Spencer received a plaque giving Watoga State Park an Old Growth Forest designation.  Dr. Joan Maloof, Director of the Old-Growth Forest Network, made the presentation yesterday at the Ann Bailey Trailhead.   Now Watoga is part of the Old Growth Forest Network.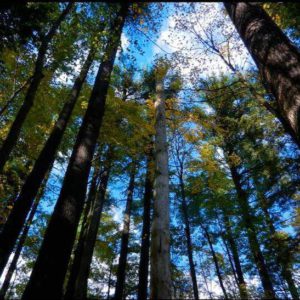 Dr. Maloof spoke to an assembled group of local park advocates about the need to protect the old growth forests for future generations. She stated that old growth is a diminishing resource making up less than one percent of our eastern forests. Dr. Maloof emphasized the importance of introducing young people to the beauty and unique characteristics of old growth forests.   Consequently,  they will continue to protect these areas for many generations to come.
Watoga is now part of the Old Growth Forest Network
Following the presentation the group went on a guided hike to view a portion of Watoga's old growth area. Watoga State Park is fortunate to have existing trails that are in close proximity to the large trees so that visitors to the park will have the opportunity to see their natural heritage up close.
We always knew that Watoga State Park is a very special place, and now it is even more so.
Joan Maloof, Professor Emeritus at Salisbury University, founded the Old-Growth Forest Network to preserve, protect and promote the country's few remaining stands of old-growth forest.
Professor Maloof states:
I am not opposed to harvesting trees for board and fiber, but as an ecologist I know that when we do we are sacrificing biodiversity. What I came to realize is that we are also sacrificing beauty. A certain amount of sacrifice may be necessary – all animals influence their surroundings – but there should also be places left to nature's processes, if only so we may witness how nature works; if only so we may enjoy the beauty and the wonder of such places. It is these left-alone places that are refuges for birds, and butterflies, and animals of all kinds. We humans depend on them to clean our air and water and protect our climate.
Watoga is now part of the Old Growth Forest Network.  For more information on the Old-Growth Forest Network go to:
www.OldGrowthForest.net