Why Watoga State Park should be spared from logging.  Speaking as an individual who has a fair amount of familiarity and interest in Watoga State Park, I see the logging of the park as contrary to the intentions of its design and conception nearly 80 years ago.   As a volunteer trail worker I have tread every foot of the 40 plus miles of trail here many times over.  I am often deeply moved by the wisdom of those who saw the unique qualities of this park so many years ago and recognized the need to protect and preserve it for future generations.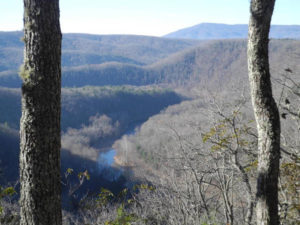 One only has to walk out Ann Bailey Trail to once again marvel at the peace and tranquility that these old growth forests and meadows provide.  The Arboretum, dedicated in 1938, was intentionally built as an "outdoor laboratory".  Those who venture out on her trails can learn about the many species of trees, plants and shrubs found within the park.  At least one area of the park hosts one of the rarest orchids in North America, the Small Whorled Pogonia.  It is so decimated it is considered an endangered and protected species.
An Appeal for the Beauty of Nature
I am not an anti-logging proponent by any means.  As a former park ranger I recognize that logging is a necessary industry here in West Virginia.  I know when done properly it can be a sustainable and environmentally friendly industry.  But what I am appealing to now has far more to do with preserving a relatively small area of forest for reasons that have nothing to do with money.  Rather, it has everything to do with respect for history and the wisdom to keep some areas of great beauty sacrosanct just because it is the right thing to do.
I know that I am not alone in this sentiment.  I hear this from the people who come to Watoga year after year.
Some families have been visiting the park for several generations.  When asked why,  they most eagerly tell you it has to do with the atmosphere of the park.  Some call it a sense of wilderness.  Just yesterday I talked with Carlene and Jon Cox of Parkersburg who stay in one of Watoga's cabins several times a year.  They pass several state parks on their drive down to Watoga.  And when you ask them why they do not hesitate to explain that it is the quality and length of the trails here.  Such sentiments speak loudly to what has been preserved in this one park.
Experience of Rock Run
I, like many folks I know, came here on a visit and ended up moving here.  Why? In my case it was my first visit. I came here to camp and hike.  My first morning here I put on my hiking boots an d started up Jesse's Cove.  I was awed by its beauty.  Rock Run tumbling from one pool to the next; columbines and Christmas ferns hanging from moss covered cliffs and this wonderful path that ascended the stream flanked by steep hillsides clad with towering trees.  I have heard other people compare such places to entering a vast cathedral.  I felt it that day.  And I still feel to this very day.  So much so I made this area my home.
Conclusion
Yes, Watoga State Park offers these kinds of experiences because it is truly unique, one of a kind.  Don't we have an obligation to protect these kinds of places that do so much for the soul.  To do so is truly an act of wisdom and demonstrates the very best of humanity.  A masterpiece is always better left untouched.