Today the Allegheny Trail where it passes through the northern portion of Watoga State Park paralleling Chicken House Run Road was checked for hiking conditions. This section is admittedly seldom checked; there is a group that maintains the Allegheny Trail but it has been a few years since their last visit to Watoga. There are a number of trees down across the trail but it is all quite passable. When the Allegheny Trail leaves the park on this end of Watoga it spills the hiker onto the road for a short distance where it re-enters the woods of the Monongahela National Forest.
My visitors, who are always conscripted for trail work, noticed that certain sections of the early morning forest floor were crunchy this morning. This is due in large part to a fascinating phenomenon called Ice Needles, pictured below. Ice Needles are just one of many strange and bizarre ice formations including hoar frost, rime frost and black frost.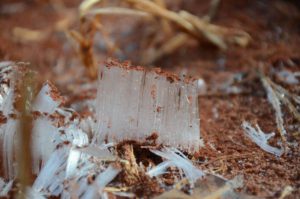 Ice Needles form, usually at night, when liquid water in the soil that is above freezing temperature comes in contact with surface temperatures below freezing. Crystals form in a pillar-like structure sometimes lifting soil and duff in what can be described best as hydraulic force. As noted by one of my guests, walking on Ice Needles is like walking on chandelier crystals. Having less class I would have compared it to walking on potato chips. Either is an apt description of the feel and sound of treading on these delicate ice formations on otherwise cold and quiet winter mornings.
Safe and warm hiking,
Ken Springer