Appropriately enough there were bear tracks on Bear Pen Trail this morning; a day or so old. It is likely on a morning this cold any bear with even a modicum of sensibility will be denned up somewhere. Coyotes and squirrels left their tracks here and there along the trail which is in quite good shape save for one 10 inch tree across the North Boundary Trail.
Update on trail blockage of the GRT at MM 44: (pictured below) The trees and boulders blocking the Greenbrier River Trail approximately 1 1/4 miles downstream from the Seebert bridge was reported to Arthur and Dale this morning and they are going to cut the trees so that cyclists can get through, but the rocks will have to wait until next week when they can get the backhoe down from Droop Mountain State Park.
Watoga-Leaks: There is an unconfirmed rumor of something being planned for the picnic area by the stables that will be of great interest to Watoga visitors, but my confidential informant had nothing further to say on that matter. I have it on good source though that Watoga Lake will be stocked with trout sometime in January 2018. If this weather continues they will have to cut a hole in the ice to get the wriggling fish in the lake. Among the trout there is expected to be some of West Virginia's famous Golden Rainbow Trout, pictured below.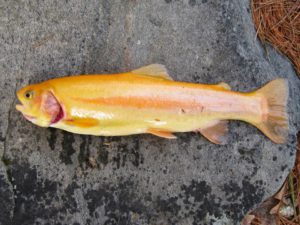 According to the Wildlife Resource Section of the West Virginia Division of Natural Resources the development of the golden trout has a interesting backstory: 'Introduced to the public in 1963 as part of West Virginia's centennial celebration, the golden rainbow trout took several years to develop. In the fall of 1949 the Petersburg State Trout Hatchery received 10,000 rainbow trout fry from a hatchery in California as a gift. Less than 300 survived, but those fish were bred over the years to create a brood stock that went on to produce a single embryo that started the golden strain.'
'In early 1955 sharp-eyed Petersburg Hatchery Manager Vincent Evans noticed a yellow-mottled fingerling swimming among thousands of other trout fry. Evans named the juvenile fish "Little Camouflage" and moved it to a separate rearing pond. Later that year Evans was transferred to the Spring Run Hatchery and Chester Mace took over the Petersburg Hatchery. Mace and his assistant David Cochran took a special interest in Little Camouflage. It took two breeding sessions but in 1957 it was noticed that some of the small fish were turning a pale-yellow. Within a few weeks nearly 300 became a golden color and through continued selective breeding the color, size and vigor of West Virginia's Golden Rainbow Trout came into being. A testimony to the dedication and persistence of the employees of West Virginia Division of Natural Resources.'
Happy Hiking,
Ken Springer