I almost forgot my ice creepers this morning and I would have soon regretted that. Those familiar with Honey Bee Trail in the Arboretum know that the initial mile of the SW section of the trail is fairly steep, narrow and rocky.   And when you throw in a few inches of slippery snow your footing decreases exponentially.  Cruising the Honey Bee and Dragon Draft Trails.
But I did not forget the ice creepers.  We cleaned a number of large limbs off the trail, plus one larger tree that was relocated with a z-rig and an additional assist from gravity.  By the way, when I say "we" I am including my canine trail companions, Daisy and Bongo.
Honey Bee and Dragons Draft Trails Visitor
We followed the fresh tracks of a lone coyote until we arrived at the junction of Honey Bee and Buckhorn Trail.  We parted ways with the coyote here and headed down Buckhorn removing a great number of impediments on the trail until arriving at the shelter on Dragon Draft.  Two Mile Run is high now due to melting snow so trying to keep my feet dry on the many stream crossings became an exercise in futility. As a result, after several stream crossings I gave up on rock hopping.  I plowed through in the same method employed by the dogs.  There is a point where you just can't get any wetter.
Some chainsaw work is required on Dragon Draft between the trail head and the shelter.  It can wait for another day though as they are all easy step-overs.
OK all you intrepid Watoga hikers; do you really know this park? Today's mystery picture is located somewhere in the 10,000 plus acres of Watoga State Park.  What is it ?  Where is it?  You gotta get them both right to score.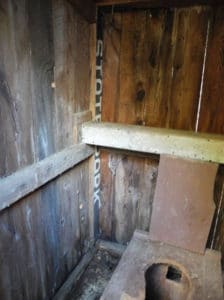 Hint: There is a slightly modified old saw that goes something to the effect of "Aim for the moon and you may hit the ___?____".  This was said a lot when I was a kid living in southeastern, Kentucky.  It may be idiomatic to that area.
Happy Hiking,
Ken