Attention was given to trails in the Arboretum on Tuesday and today the Mongaseneka Trail. Both trail systems are clear however Monongaseneka has just enough snow on it to make it slick with difficult footing in the steeper portions of the trail.
The continued single-digit temperatures this week require more preparation on the part of the hiker to stay warm, but ample rewards are to be found in the form of some beautiful and bizarre ice formations.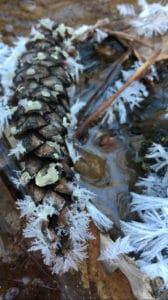 There is no better trail to view these oddities than Dragon Draft which follows Two Mile Run. Be prepared for a total of 23 stream crossings, mostly on dry rock but with a few locations on ice. For your safety you should at least have hiking poles or a hiking stick to maintain your balance – ice creepers are very helpful as well.
You can access Dragon Draft by parking at the Arboretum on the main entrance road. Dragon Draft, unlike the other trails in the Arboretum, offers a very moderate grade for its entire length. This is a family-friendly trail just keep in mind the current conditions of occasional ice.
Happy and Warm Hiking,
Ken Springer