Watoga Trail Report June 28, 2018 Update.  It felt wonderful to get back out Watoga's trails.  This morning ended a month- long convalescence from rib fractures sustained on the Bear Pen Loop.  My dog Bongo felt it would be a good idea to go right back out on the same trail.  Sort of a "get back in the saddle" suggestion.  And, as usual, he was spot on.  We cleaned all but 2 trees that will require another visit with rope and pulleys.
First Chanterelle of the  Season!
Whilst working the Bear Pen Loop I found my first Chanterelle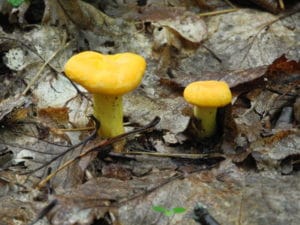 of the season up on the North Boundary Trail, and as a bonus came upon this trio of Quilted Russulas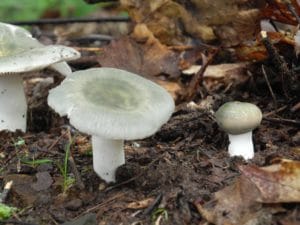 just a few yards on down the trail. Both of these species of mushrooms are about as flavorful a wild treat as one can find here in the Appalachians.
These delicacies are destined for a dish called a Spanish Tortilla, which has nothing to do with the flat corn Mexican tortilla associated with tacos. Instead, the Spanish tortilla is an egg, potato, cheese and mushroom dish cooked in a cast iron skillet. Don't forget the wine Laura and Margot.
Yesterday in another part of the park Mark Mengele was transporting a work crew consisting of David Elliott, Ken Hiser and his friend Matt out the Ann Bailey Trail in Mark's restored Dodge Power Wagon (sorry no pictures yet, hint, hint) to the Workman Cabin.
They spent the morning hours weed-eating the area around the cabin, and removing the large tree that had fallen across Rock Run in front of the cabin. David remarked that they "left a tidy mountain homestead for visiting hikers to enjoy".
And that reminds me; we need to get down at the other end of Rock Run and clean up those nasty stinging nettles. Pity the poor hiker that heads up Jesse's Cove with shorts on.
Finally, I ran into Mac Gray this morning on the entrance road involved in a worthy project: He is photographing all of Watoga's cabins, inside and out. He is always thinking about something called "posterity".
Well that's the news from Lake Wobeg…., Whoops, I mean Watoga State Park.
Happy Hiking,
Ken Springer