Bongo, Daisy and their manservant left their collective tracks in the snow this morning as they ascended the NW section of Honey Bee Trail. The recent winds have dropped many trees and branches on Watoga's trails but we managed to clear all on this part of Honey Bee Trail save a 14 inch oak lying flush with the trail about 1 1/4 miles from the trailhead.  Old Growth.
Old Growth
Now that the existence of old growth trees in Watoga State Park has been confirmed I find myself constantly looking for the large trees. The largest oak spotted today in the Arboretum was well under 30 inches in diameter and the average was probably in the 12 inch range. Grand trees for sure, but the ones in the old growth area have a century or two head start on these youngsters.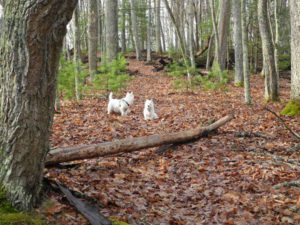 If I were to tell you that Bongo and Daisy dragged this downed tree off the trail, you may not believe me. Therefore I will take the credit for it and give them a treat as recompense.
Happy Hiking,
Ken Springer