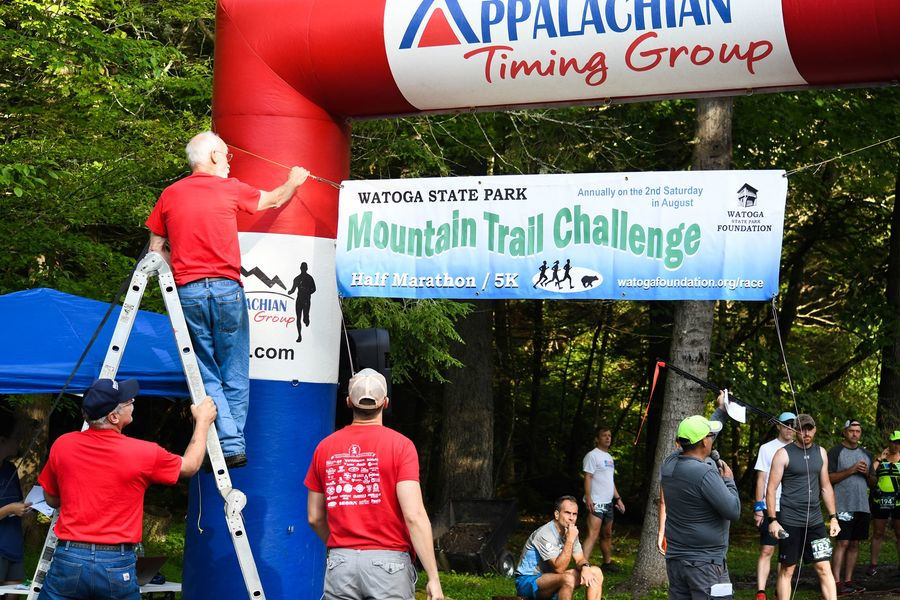 The stage is almost set for the Sixth Annual Watoga State Park Mountain Challenge Races. Saturday's races will feature runners from Virginia to California and across the United States. Because of Watoga's unique racecourses, 5K and Half Marathon enthusiasts come from across the U.S.
Race Day morning temperature will be a comfortable 63 degrees. Talk about ideal running conditions! Meteorologists currently predict afternoon temperatures of 84 degrees. There's a 39 percent chance of scattered thunderstorms in nearby Hillsboro. However, at Watoga, it should be five to 10 degrees cooler along this challenging and hilly route.
As you drive into the park, race signs, strategically placed to "get your attention," will direct you to the Beaver Creek Campground. You also may notice deer out grazing so early in a mist-filled morning.
From 6:30 a.m. to 8 a.m., Race Day entrants can complete the registration process near the Beaver Creek Campground. Whether you've registered online or are waiting until that morning, don't worry. Our volunteer teams will assist you.

All race proceeds benefit Watoga State Park. Any donations may be tax-deductible.
Because of the unavailability of Internet services, only cash or checks are accepted. Moreover, if you have never been to Watoga, please print your directions or save them to your mobile device prior to leaving. You will not have internet-based map directions for the entire trip to the park.
Along the 5K and Half Marathon Courses . . .
Along the half marathon route, runners will traverse through a 13.1-mile adventure. Elevations will range from 2,560 feet to 3,200 feet. Six aid stations staffed by volunteers providing nutrition and essential hydration to runners. The 5K will have one aid station situation mid-way in the 3.1-mile course.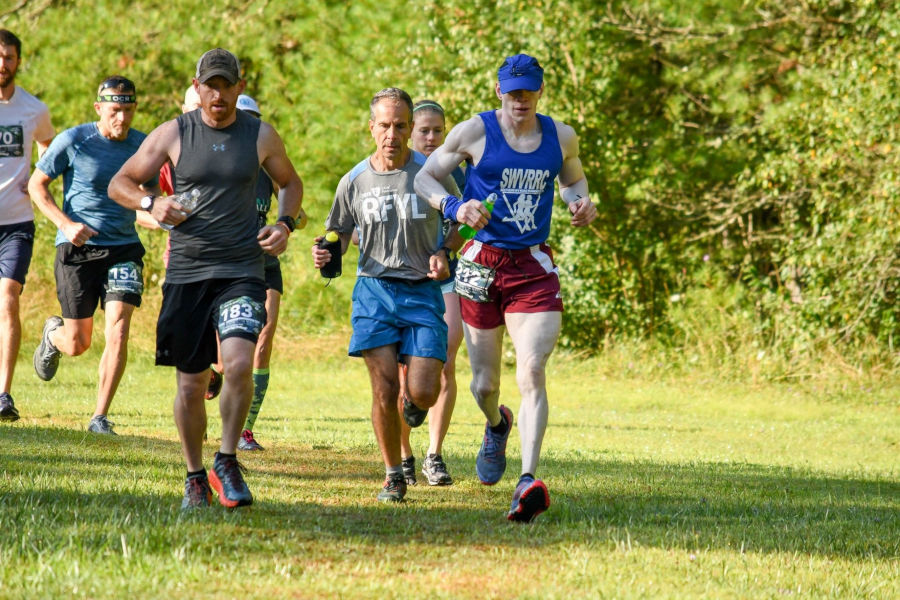 This year's tread (the surface runners feel underfoot) is in the best shape ever! Importantly, continuous and necessary work during the past six years has resulted in steady improvements to prevent erosion and tread wear.
Communications teams, rescue personnel, and emergency response squads will be in various locations throughout the park.
Photographers will be documenting your journey, your smiles, and even a grimace or two as you leave sweat behind.
The half marathon starts promptly at 8:30, followed by the 5K with both slated to end at 2 p.m. A cookout and an awards ceremony will be at the Beaver Creek Campground airstrip.
Race organizers, event planners, volunteers, and park personnel will be following protocol recommended by the Centers for Disease Control as well as local and state health guidelines. You can review current guidelines issued by the CDC. Additional COVID information will be provided in the pre-race meeting.
Watoga State Park and the Foundation are looking forward to welcoming you to the Watoga Mountain Trail Races. See you Saturday!