Watoga State Park Foundation Inc News June 2, 2018.  following the bi-monthly Watoga State Park Foundation Inc. board meeting held at 10 am on Saturday, June 2, 2018 at the Watoga State Park offices 4848 Watoga Park Rd, Marlinton, WV 24954.
After the usual minutes and reports, the board re-elected the current slate of officers for a new three year term.
President: John Goodwin
Vice-President: Kenneth Springer
Treasurer: Mac Gray
Secretary: Maureen Conley
Wayne T Pollard of Beaver Creek Rd, just outside the Park became the Foundation's newest member. Wayne retired from First Energy and values the park for preservation of the natural world for future generations.
Rental Cabins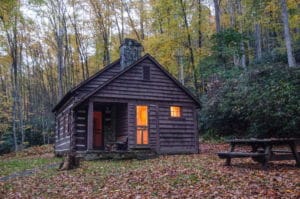 Park visitors rented more cabins in May with  87 more  rental nights than May, 2017.
The Workman Cabin, a historic structure located at the head of the Rock Run Watershed and close to the Old Growth Area manifests 2 important critical repair needs.  A hole in the roof, caused by a fallen tree limb, needs repaired.  And the bottom courses of logs need replaced and foundation needs shoring up. Additionally, the Foundation and Park are currently working with a grant, and this work needs to happen as soon as possible.
Additional Park Improvements
Watoga Superintendent Jody Spencer announced upcoming West Virginia Department of Highways (WVDOH) activity in and around Watoga. The Ann Bailey Road from the parking area out to the Ann Bailey lookout will be improved by WVDOH, as will the Laurel Run Rd from the end of Beaver Creek Rd to the Laurel Run Primitive Campground and Kennison Run Trailhead.
Upcoming improvements will also be made to the swimming pool and Riverside Campground.  The cabin improvement project is nearing completion.  All CCC era cabins are receiving renovations and improvements to increase their comfort and desirability.
The US Forest Service is funding restroom construction along the Allegheny Trail near the old air strip and Beaver Creek Campground. A wifi hotspot will be activated at the Beaver Creek check in station soon.
Activities Upcoming
Naturalist Chris Bartley has a busy summer scheduled for Watoga. Look for another blog post about Naturalist activities.
The Watoga Mountain Trail Challenge is scheduled for Aug 11, 2018. Hence, a volunteer coordinator is needed for that event.
Gail Hyre from Watoga Art in the Park visited the meeting to discuss this year's program. The 2nd annual Watoga Art in the Park is to be held Sept 1 & 2, 2018 at Watoga State Park. https://watogaartinthepark.com/
New trail signs have come in and volunteer help would be welcomed to install the new trail signs.