In many ways, the area feels like a second home to me. When I drive into the park and see those trees arch over the road, I exhale and sigh the sigh of being at home and at peace. My experience at the park is rich in years. Anything I can do to make sure that generations who come after me have that same experience, I am ready to lace up my shoes or drive my car as the case may be. I think the main reason I made the drive was and is support for the mission of the Watoga State Park Foundation, and a deep love and respect for the area.
The trip to Watoga was certainly a longish drive. When I mapped it out, it said if I took all interstates it would be about 13.5 or 14 hours with no stops, but I decided to make a longer trip of it and take all blue roads (U.S. highways and state highways).
This extended things to about 20 hours of driving time and about 980 miles each way. I made this a part of my vacation and took two days to make the drive. I am a person who has always liked to drive and take the "scenic route."
The Challenging Part of the Mountain Trail Challenge
Usually, I always joke with people that one needs to emphasize the "Mountain Trail" and "Challenge" part of the race. It is definitely a very challenging course, and there is a deep feeling of satisfaction to completing the course no matter where you are in the pack. I firmly believe the only way you could actually train for this run is by training full-time on this course. It is always a feeling of accomplishment to complete a half marathon or long-distance run, but I think there is an even greater sense of satisfaction when the course is so challenging.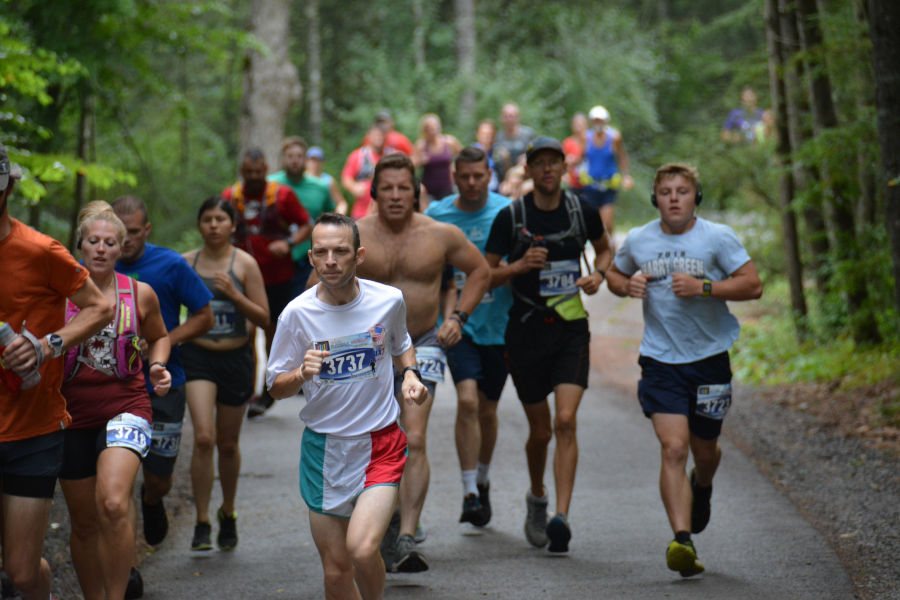 This actually is my third time doing the race. I ran in 2016, 2017, and now 2021. I should note that before I left the park, I reserved my cabin for 2022.
A funny story: I have always been a bit of a runner, so I was pretty cocky in 2016. Guess what? I got my clock cleaned by the course and was very near the back of the pack in 2016. After that, I pledged that would not happen in 2017, and in 2017 I placed 6th overall. I was a little nervous about being away for four years, but I was only a minute slower this year and placed 7th overall so I figured it wasn't too bad for four years older.
Forty-Plus Years at Watoga
I checked with my Dad to figure out when we started coming to the park. Our first trip was in the autumn of 1980 for the school system's fall break. My oldest brother would have been 10, my next brother would have been 8, I would have been two months shy of 4, and my youngest brother was 3 months old.
My parents enjoyed it so much they decided we start doing our one-week Spring Breaks there. Dad believes our first Spring Break was 1982, and with rare exception we went every year. I graduated from high school in 1995, and I spent nearly every spring break there.
When we first started going to the park, it was not open year-round. There were even a couple or three years when our Spring Break was technically before the park opened. In those years, the superintendent gave us special permission to rent a cabin and be in the park. We had the whole park to ourselves! And we would always rent cabin 28 in Pine Run. We are all long since grown, but my parents still go every Spring and rent cabin 28. In fact, when I checked in at the park, the person checking me in asked if I was related to that couple that comes during the Spring every year! I smiled and said, "Those are my parents."
As I mentioned, I do try to stay connected to the area with a mail subscription to the Pocahontas Times. My parents also have a mail subscription.
Inspired to Run and More . . .
Running is an important part of my spirituality and faith life. In my work a day life, I am the pastor of the First Christian Church (Disciples of Christ). I have been serving in Leavenworth for three years as of May 1. As of June 30, I have been ordained 19 years.
Running allows me to fulfill my vocation more fully. In pastoral ministry, it is common to work 60 to 70 hours a week, odd hours, and functionally be on call 24/7. It is the running and attention to my diet that allows me the energy to live the life of a vocational pastor. Also, when a person gets in fairly good shape, you don't have to really think about moving your arms and legs in concert to run, but the body just takes care of itself. That means in the midst of one's run, there is time to think, pray, wonder, and ponder during the space of a training run. (Many sermons have been considered and many prayers have been lifted during my runs).
It would be fair to say that I come from a running family. In my childhood, there were times when all six of us of would run races. We tended to be an active and athletic family. Watoga is and was good for us. We would hike almost every day of our one-week stay. There were even some days that were long enough that lunches were packed for the hikes. One day of the week was always spent in Lewisburg though!
A Watoga Spring Break Like None Other
One of the things I vividly remember about our trips is that we would bring lots of books and board games for the evenings. After our week at "the cabin," as we called it, we could come back home. We would be rested, refreshed, and closer as a family. Many of my classmates would come back to school more tired after Spring Break than when they had left. I felt like we always did things the right way.