May 2018 Watoga Trails Update
Report From Brian Hirt, trail volunteer:
"I finally got some spare time and the weather cooperated. So I spent Friday and most of Saturday doing some trail maintenance and cleanup projects in and around Watoga.  Started out Friday morning clearing fallen trees from the landing strip at Beaver Creek.  Then moved onto the Allegheny Trail.  I removed fallen fallen trees on the mile and a half stretch of trail  parallel to Chicken House Run Road.
Yesterday I was at Laurel Run campground.  A couple of pine trees had fallen on campsite #9 sometime over the winter.  I removed them and moved the slash out of the away of the campsite.  After that went up I went up Kennison Run trail from the campground a mile with lopper's cutting out saplings and undergrowth along the trail.  Some of the creek crossings were a little tough to manage from recent heavy rains.  A lot of debris had washed down and stream banks had eroded.  Trail's that follow creeks I guess have an ever changing landscape. There wasn't any fallen trees to deal with as far as I got before deciding to turning back as a thunderstorm approached in the distance.
The blazes on both the Allegheny and Kennison Run Trails are in fair condition.  Bboth could stand to be refreshed in a few locations.  Fortunately both are yellow so I'll add this to my list of things to do.  I've never painted blazes of yellow circle's on trees in the past.  It's been always 2 x 6 rectangles.  Might take some practice. But maybe you can teach and old dog new tricks."
Other News
Mark Mengele is continuing efforts to conduct a bird survey of the Rock Run watershed at Watoga State Park, also known as the Old Growth Area. The plan is to get experienced birders out there at various times of the year, and over the next couple of weeks they will be surveying breeding birds.
While the birds are breeding the plants and trees of Watoga are pursuing their single-minded agenda of reproduction. Fertility and distribution are a top priority for plant life at this time of the year. With that in mind today's photographs take a close look at several prominent blooms with an unabashed look at their reproductive parts.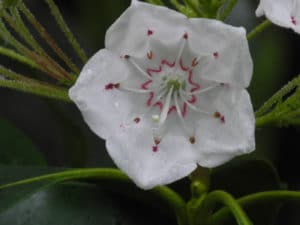 The ephemeral mountain laurel bloom so petite and beautiful looks like a hand painted porcelain miniature.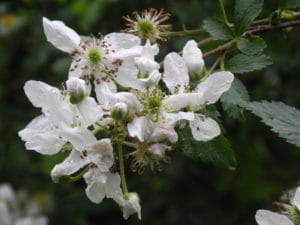 The flower of the blackberry offers promises of a seasonal flavor to grace our morning cereal, or in dishes with names like cobbler, pie, strudel, tart and turnover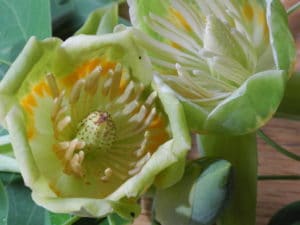 The bloom of the tulip poplar is usually viewed high up in the tree, but this time brought down by wind and rain for a closer look.
Hiking allows us the opportunity to stop and take in the finer details of nature. There is not a better way to "be in the moment" than a hike in the woods.