Mechanical Milieu
Probably the best advice that was ever given to me by an uncle who freely dispensed advice, much of it unsolicited, was to be good to your mechanic. He was spot on; if you are fortunate enough to find a competent and trustworthy person to entrust the health of your car to, it pays to show your appreciation. We appreciate Mister Good Wrench of Watoga.
Even more so because, like many professions, this one is fraught with unscrupulous operators – but not here in Pocahontas County of course.
Car Talk was a radio show about auto repairs that ran for 35 years on National Public Radio. It was hosted by brothers, Tom and Ray Magliozzi also called "Click and Clack, the Tappet Brothers." The two actually ran an auto repair shop in Boston's Harvard Square.
People would call into the show with their car troubles and Click and Clack would diagnose the problem with a great deal of hilarity. I never missed a show in all those years for two reasons; yes, they were funny, very funny. But the show explored every possible problem you might encounter with a vehicle – so it was also very practical.
Gone are the days when you could pick up a distributor cap, a set of points and spark plugs at the NAPA store and do your own tune-up. Today's auto mechanic must be skilled in technical diagnostics and computerized systems, in addition to being handy with a torque wrench.
Car Talk made me realize that a good mechanic has to have a lot of smarts and must think like a detective. A problem with a vehicle may be caused by a multitude of things and the right questions must be asked to pinpoint the actual cause of the problem. Computerized diagnostics also help, but you have to have the skills to operate this technology.
Meet Mister Good Wrench of Watoga
Watoga State Park got a good deal when they hired Arthur Sharp to maintain the fleet of trucks, backhoes, grader, mowers, and chainsaws necessary to keep the park running smoothly.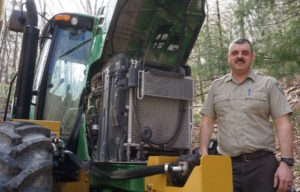 Arthur, a native of Pocahontas County, came to the job with skills learned as a diesel mechanic for the West Virginia National Guard.
He attended the twelve-week school at Fort Jackson, South Carolina where he graduated an "all wheels" mechanic.
In fact, Arthur wears a lot of hats. In addition to being a full-time mechanic at the park, he is active in the West Virginia National Guard, operates a farm
and is the fire chief at Cass. It tired me out just writing that paragraph.
Where does a guy that busy find time to marry his wife Kristine and produce three great kids; Noah, Evan, and 8-month old Hope? Arthur manages it by taking care of the farm work in the evening when he can also be there with his family.
When visitors return to Watoga State Park this season they will find the Riverside Campground boasting many improvements. Backhoes and graders have been in the campground all winter pulling ditches, putting in new drainage systems, and resurfacing many of the campsites.
In other areas of the park, employees have been preemptively cutting down trees that pose a falling hazard to nearby buildings. The half-dozen mowers required to keep the grass down throughout the park, have been repaired and are awaiting use this spring.
It is Arthur who keeps all of this equipment running.
Part of the goal of the Watoga Trail Report is to make the public aware of how their park is being maintained and cared for. In doing so it is necessary to point out the many dedicated park employees, like Arthur Sharp, Mr Good Wrench of Watoga, who strive each day to make your visit a memorable one.
Other Park News
In a previous dispatch, we talked about the restoration and upgrades being made to many of the cabins. It was mentioned that the money for this project comes from the sale of government bonds and Watoga State Park was the recipient of this windfall.
Work on the cabins has been going on for about two years now, resulting in new decks, remodeled kitchens and bathrooms, and new furniture.
I have been stopping in from time to time to observe the progress, taking photographs and talking with the many skilled workers involved.
One thing became instantly clear to me; this influx of money for the cabins not only benefits the visitors to the park but, for the most part, those dollars are staying right here in Pocahontas County.
As much of the building material as possible is purchased locally. Additionally, the project is also bringing work to local contractors like Stuart Horner of JB Builders and David Smith of Marlinton-based Dream Builders. They, in turn, hire labor so the overall benefits extend well outside the park.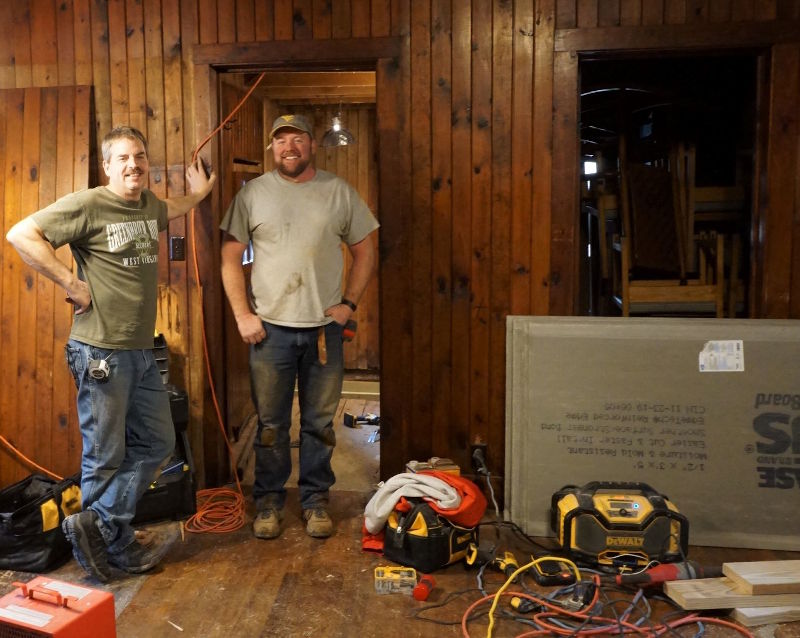 Pine Run Cabin Renovations
A recent visit to a couple of the cabins in the Pine Run Cabin Area, found employees refinishing the chestnut floors. It was a great opportunity to see side by side cabins in different stages of removal of the old floor finish.
Keeping in mind that these particular cabins were built over 80 years ago, to get to the original wood surface required sanding through many layers of polyurethane or varnish. How many? No one really knows but it looked to me like the workers were going through a lot of sandpaper.
Arthur showed me a cabin in which the finishing was completed. There was yellow tape across the door like you would see at a crime scene. We only peeked through the open door but the finished floor was dazzling.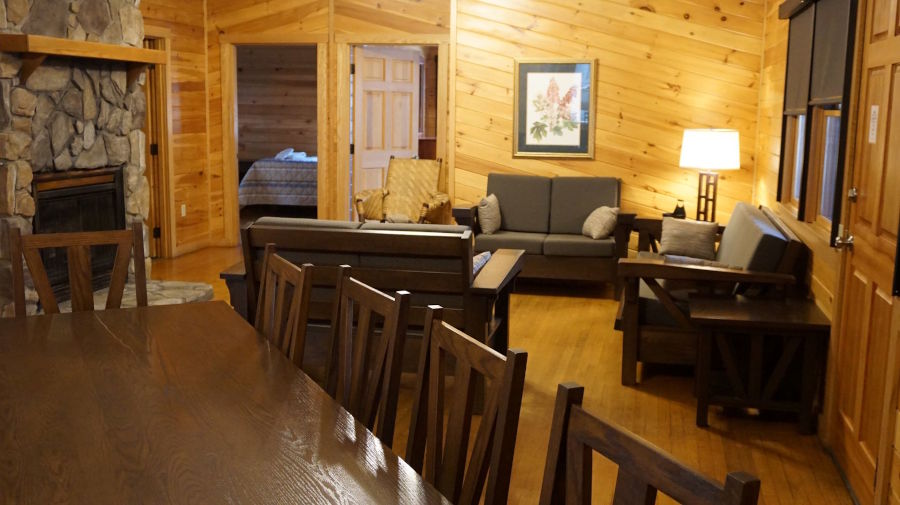 Imagine all of the park visitors who strode those floors for over eight decades. Also, imagine what it cost to rent that cabin back in 1937? It turns out that it was $30 per week for a six-person cabin.
It may sound inexpensive, but keep in mind that in 1937, during the Great Depression, the average annual wage was only $1780. The cost of a gallon of gasoline was 10 cents and a loaf of bread was 9 cents.
The average annual wage in the U.S. today is approximately $48,672 and the rate for that same six-person cabin today is $953 per week.
A quick calculation reveals that in 1937 it required 1.6% of your annual wages to rent a cabin at Watoga for you and your family and friends for a week. Today renting that same cabin accounts for 1.9% of your annual wages, not that much difference. So in truth, you are paying just about the same today as you would have in 1937.
Watoga State Park has only raised the cost of renting its cabins attendant with rising salaries throughout the years. It is still a good bargain to rent a cabin and enjoy all of the other amenities and activities found within the park and around Pocahontas County.
From the mountain trails of Watoga,