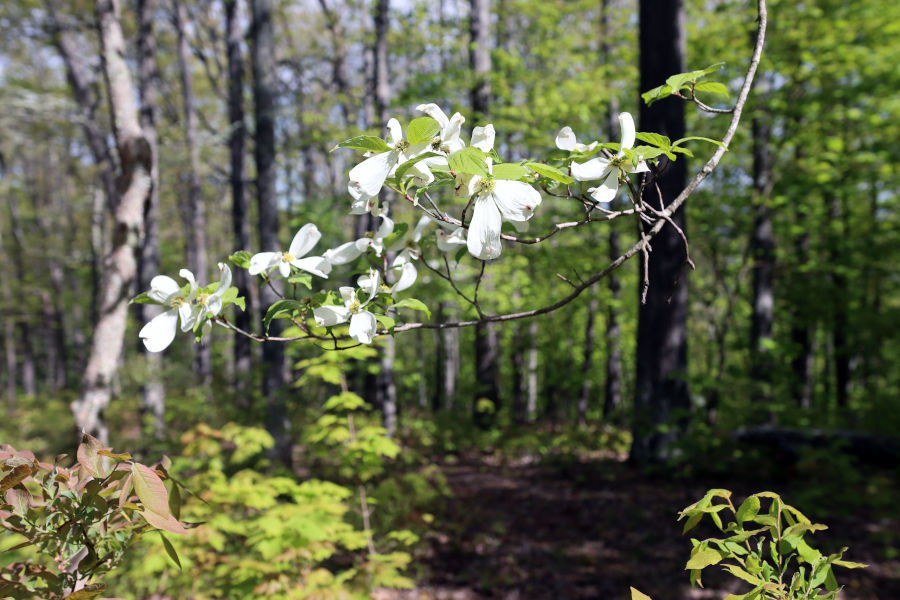 Hello everyone! Allow me to introduce myself. I'm Kayla Bowyer, the new naturalist here at Watoga State Park. This is the debut of the Naturalist Notebook. My name is Kayla Bowyer.
As a naturalist, it's my job to talk so please allow me to tell you a little bit about myself. I have been at Watoga for about a month. Already, I can say that it feels like home. The rolling hills and valleys, and the winding curves that are a blast to drive, at least now in the summer, remind me of my childhood growing up in the smaller hills and valleys of Northeast Ohio.
I grew up in a small town in Ohio, where it was basically a stop light and a flea market. My home base was about 45 minutes south of Youngstown and about 45 minutes to an hour west of Pittsburgh. But possibly the best point of reference for folks that grew up in the Mountain State is that I grew up 30 minutes from Newell, the home of Fiestaware. And yes, it's just as beloved across the river as it is here.
If you have visited this part of Ohio, you'll recognize that it's not flat and is full of forests and creek valleys. This is the place my education truly began, with the trees and the wildlife.
I was lucky enough to live at the top of a hill. From there, I could see all kinds of wildlife, from indigo buntings to flying squirrels to deer who followed my horse in his daily travels. It was a wonderful place to grow up. Watching Steve Irwin and Jeff Corwin only helped to fuel my interest in the environment and nature.
My Career Passion
I followed this passion all the way to college. I attended the University of Mount Union in Alliance, Ohio, a Division 3 school just outside of Canton. There, I pursued a degree in Environmental Science graduating in May of 2020, a Class of Covid grad.
I ended up pursuing a naturalist career after meeting and working with the naturalist at Beaver Creek State Park. Since then, she has moved forward to Wingfoot State Park in Akron. Importantly, teaching has always come much more naturally to me, but I never had the passion to be a classroom teacher. So, I felt rather stuck in trying to figure out what to do with my passion.
Once I met the naturalist at Beaver Creek, I knew that I had found a name for what I wanted to do, and I pursued it as my heart's desire. I have been able to follow this passion to many beautiful places, from Lake Erie to the Greater Yellowstone Ecosystem.
Initial Musings from Watoga's Naturalist Notebook
Few places feel as wonderful and welcoming as Watoga State Park. The hills and the hollers are gorgeous, filled with beautiful Appalachian flora and fauna. I have been taking a hike once a week on my days off . They've been the highlight of my week. From the Anne Bailey Trail to the Dragon Draft Trail, this park is full of satisfyingly rugged hikes and adventures.
My goal as a naturalist is to introduce many folks to adventures that they may not realize are here in Watoga. From hikes to campfires, I plan on including weekly adventures that guests can explore and experience, with each one different from the last. When you come down to the programs, bring family and friends and a willingness to learn and explore. I also encourage guests to ask questions and tell their stories; I may be the one talking but I want to learn as much from you as you can learn from me. There will be some Naturalist Notes you have never read about before at Watoga.
This Naturalist Will Keep You Informed
To find out what programs that I am hosting, follow the Foundation's web page and Facebook page, The Pocahontas Times, or stop by the office for a pamphlet on what programs will be going on that weekend. My naturalist programs are scheduled for Fridays, Saturdays, and Sundays, unless there is a special event during the week.
I look forward to meeting you as you come down to visit this beautiful and one of a kind park. It's a large and wondrous place and I will gladly guide you through it.
Editor's note
When Kayla is not busy crawling in and around Watoga's creeks or trying to find several Dragon's Tails in the Brooks Arboretum, she will share more musings with you in the Naturalist's Notebook. Watoga welcomes you to her magical woods, Kayla.