Bonnie, Busch Settlement, North Boundary, Buck and Doe and the completion of the loop on Bear Pen Run Trails were cleared of limbs and debris today.
Thanks to the efforts of Arthur and Dale the trees blocking the Greenbrier River Trail at MM 44 were cleared yesterday, and though the big rocks will not be cleared until the backhoe can be summoned to the site, bicycles can easy negotiate the trail there. (pictured)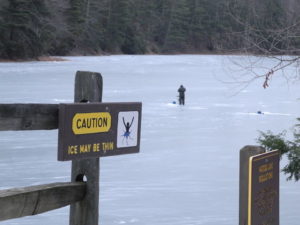 Well, the ice fisherman are back (pictured) in full force and they are after trout. I talked to 3 fisherpersons this morning and they report that the ice is 3 to 4 inches thick. The preferred bait for taking trout from under the ice is waxworms and Power Bait.
According to outsideonline .com If your reading is at least four inches, proceed with caution. Ice more than five inches thick will likely hold a snowmobile, and ice more than eight inches thick will likely support a car or small pickup truck.
I cannot attest to that personally so I am hoping our tenacious visitors venturing out on Watoga Lake are "proceeding with caution".
Good Hiking,
Ken Springer