Guest Post by Rachelle Bott Beckner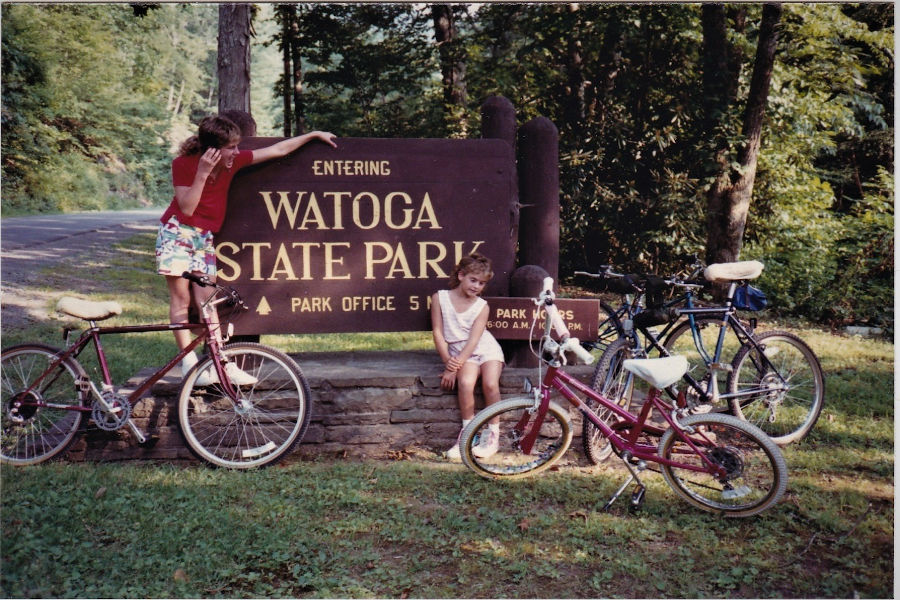 For more than seven decades, the Botts have stayed in various cabins at Watoga State Park. The family fished, swam, hiked, and rode horses at the stables. This is Rachelle Bott Beckner's memories about growing up spending summer vacations at Watoga.
Cabins Have Personality Too
It's difficult to choose my favorite cabin at Watoga State Park. I think, over the years, we've stayed at nearly all of them. In particular, I have fond memories in Cabins 2 (River Cabin Area), 3 (Island Lick Cabin Area), 14 (Bucks Run Cabin Area), 20 (next door to the swimming pool) and 21 (Pine Run Cabin Area).
Of course, the years that Grandma and Grandpa Bott (who started this tradition when my father, David Bott, was a child) stayed at Cabin 20 were great. We would visit the pool daily and Grandma would give us money to buy treats from the vending machines inside the pool.
I loved Cabin 14 because my sister, Sara, and I would fly down the driveway on our bikes and ride down the hill with no hands until we reached the commissary. We'd visit the commissary nightly after dinner to buy an ice cream treat.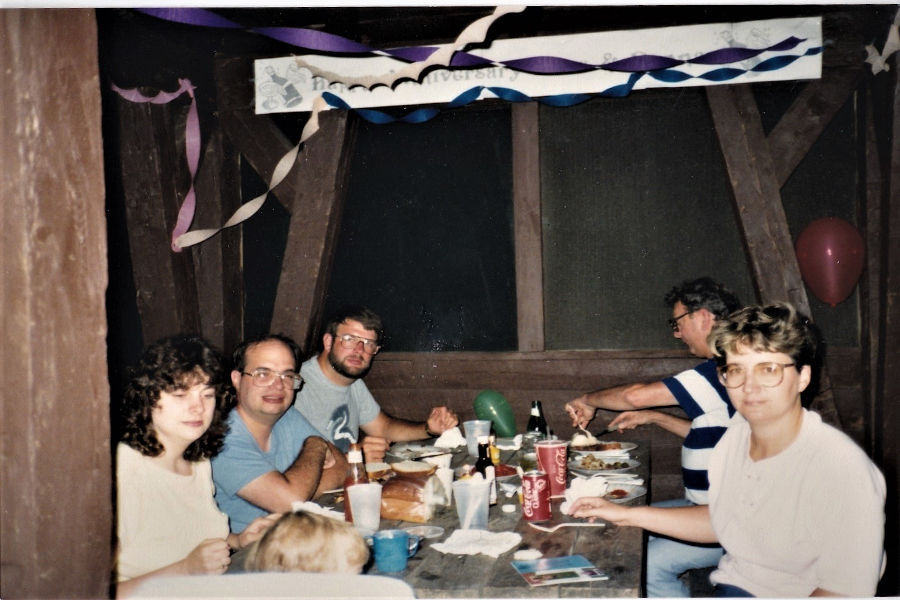 Finding Hidden Artwork in Wood Knots
Perhaps some of my favorite memories, though, are from Cabin 3, which was large enough to hold the extended family. Both of my aunts, Barbara Bott Joseph and Flora Jane Bott, would stay with us with their spouses or significant others. My sister and I would share a room. Some of our favorite pastimes were laying in our beds and finding pictures and stories in the wood knots in the paneling. I remember laying in bed one afternoon for an hour or more and my grandmother became worried what we were up to because we were so quiet. She expected some mischievous act, but we were just using our imaginations to find art in the walls.
Our family was devastated when it burned down one year and we couldn't stay there again. Cabin 3 had the space to accommodate the extended family.
One year, there was a mix-up with the reservations in the office and we all had to stay in Cabin 14. The office gave us cots to use for everyone to sleep there. Sara and I were kids at the time so it didn't bother us and we wouldn't have thought anything about having nine people stuffed into a cabin built for four. As an adult, I can't imagine how everyone survived that week.
Watoga is Near and Dear to Our Hearts
Growing up, my grandparents were mine and my sister's best friends. I'm not gonna lie. We were spoiled. We were the only grandchildren at that time on my father's side of the family. I was the first grandbaby on both sides of the family. We could do no wrong in my grandmother's eyes. We loved to spend Friday nights at their house, so a week at Watoga was like a weeklong sleepover. We'd stay up late and build fires, roasting marshmallows. A running family joke we have is the year it was too hot to build a fire in the cabin, but my mother did anyway. She built a scorcher of a fire and roasted my grandfather out of the house. He stood on the porch until it died down.
Creating a Lifetime of Memories with the Gift of Watoga
For all of the Botts, but especially me and my sister, Watoga holds a lifetime of memories. We will cherish our memories forever because they remind us of our grandparents.
Their love for us was shown by giving us the gift of Watoga and the beauty of West Virginia. During the week, Grandpa would take us down to the Greenbrier River across from Cabin 1 and teach us how to skip rocks. Sometimes, we'd drive down to Seebert to the little convenience store there. What's more, on every trip, Grandpa would make his classic Dad joke and ask us if we knew where Seebert got its name. "There was a man named, Bert," he said, "and he'd wandered off. The townspeople started asking, did you see Bert?" Thus, the town became named Seebert.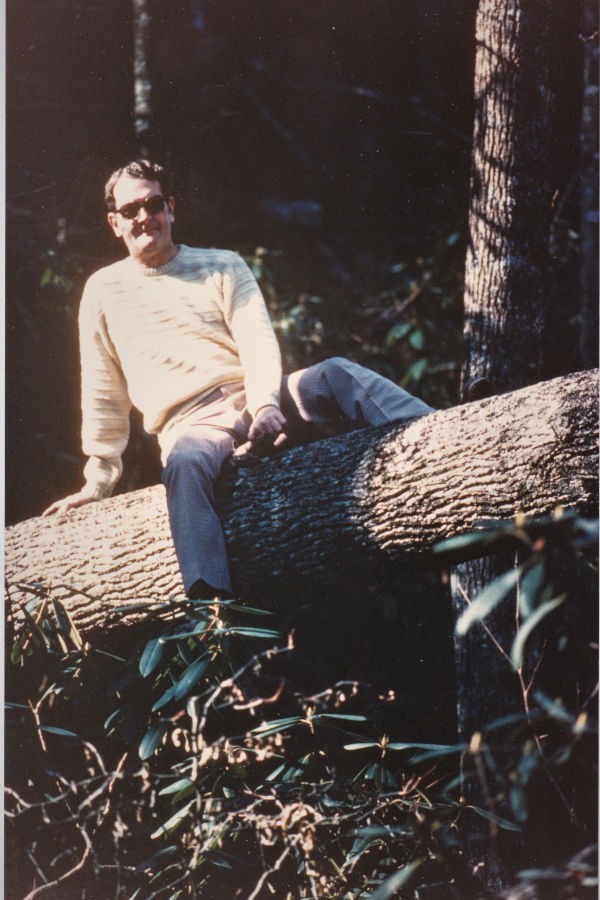 Grandpa wanted us to know our state and appreciate nature. Of course, he'd take us on hikes around the lake and sometimes the whole family would go on the planned nature hikes on one of the many trails in the park. One year, most of the family (not my grandmother or mom) took a night hike with the park ranger.
The Allure of Watoga
During the day, we'd swim at the pool or go horseback riding at the stables. We'd stay at Pine Run when we were preteens. Grandma would bring her jar of quarters she saved all year for us to use at the rec center near the pool. We'd walk the trail from Pine Run around the lake and to the rec center, where we'd spend our quarters on the jukebox, arcade games and rounds of ping pong.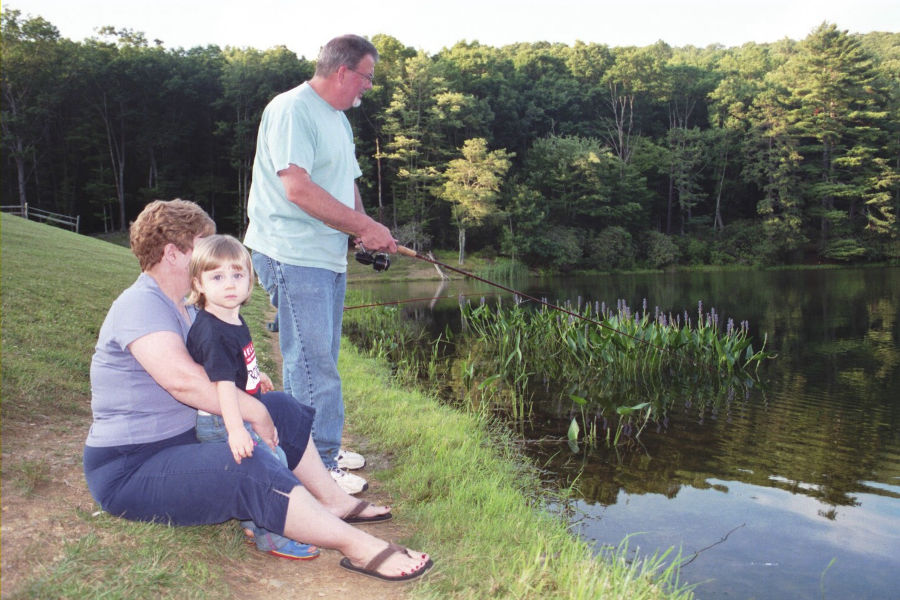 Later in the evening, the entire family would visit the rec center for the family movie night, which was usually Woodsy the Owl or Smokey the Bear. In particular, it didn't matter how many times we had watched the films at Watoga or the nearby Cranberry Glades; it was so familiar to us it felt like home. We'd sing along with the song, "Give a hoot—don't pollute!"
In the evenings, we'd go down to the lake at dusk to catch a few more bluegills with our trusty crickets for bait. Later, we'd drive through the park spotting deer. When we returned to the cabin, we'd wait and watch for the raccoons to come out.
Watoga—A Most Precious Gem
In this slower quarantine time, your mind can easily float back to the slower days at Watoga, which weren't so rare then. In today's crazy-paced, high-tech life, the real beauty that Watoga offers families is a rare opportunity to unplug; to take a deep breath and smell the pine trees; to switch off the phones and TVs and cut a switch off a bush to roast marshmallows; to find yourself and connect with your family and one of the state's most precious gems.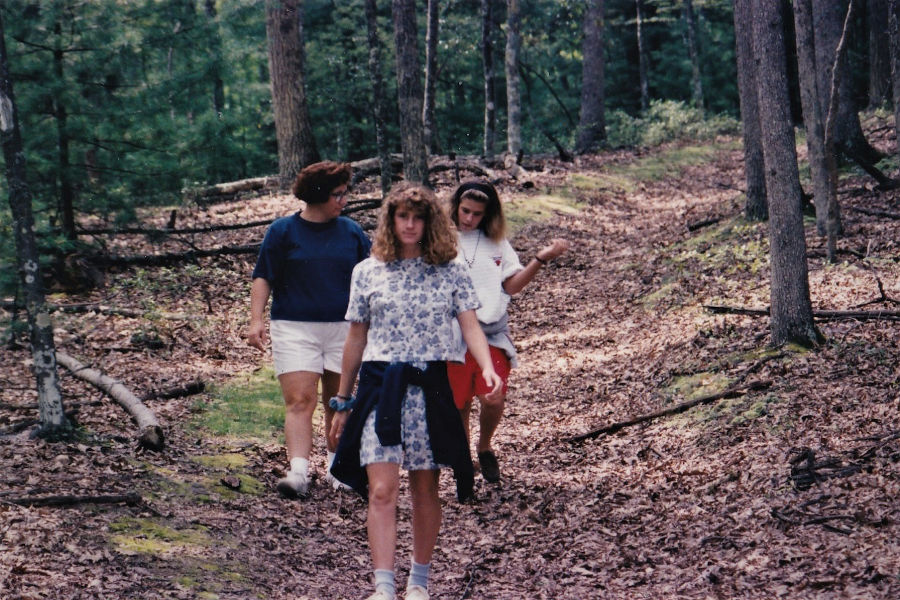 Generations of the Bott family have enjoyed the quiet reprieve of Watoga. Without doubt, it is important to me for that tradition to carry on, which is why when my girls were infants we stayed at Cabin 20 for a week. Like me, they were bathed in the kitchen sink. Like me, they swam in the freezing waters of Watoga pool. Like me, Belle and Lilly fished with crickets to catch bluegills from Watoga Lake.
Now, our family has a cabin near Green Bank and the family cabin has become our home away from home. In fact, it's Watoga that was the impetus for my grandparents to build our family cabin. It's Watoga that the Botts have to thank for a love of nature, the state and her people.
In conclusion, I invite all West Virginians to reconnect with their families and rediscover all that Watoga has to offer. You won't be sorry you did.
About the Author
Rachelle is a West Virginia native and former journalist. She now lives in Clemson, S.C., with husband, Andrew, daughters, Belle and Lilly, and their dog, Whittaker. Rachelle works with Tigers United, which is dedicated to preserving natural habitat around the world to save wild tigers.