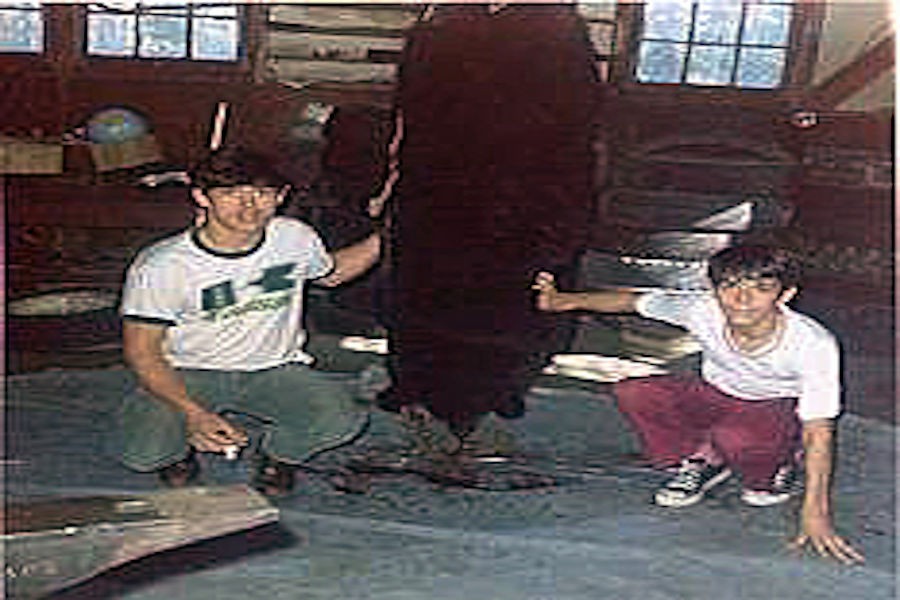 Editor's Note: The Department of Natural Resources advises all state forest and park visitors to NEVER approach wildlife in an attempt to touch it. The Department of Natural Resources protects the state's wildlife so that all can enjoy their beauty in West Virginia.


The Black Bear's Blood Drains Near Me
I noticed something bright red on my scuffed Converse tennis shoes. Equally important, the enormity of what loomed above quickly distracted me from the blood on those worn basketball shoes.
When I touched the black bear, its fur felt rough, like a worn dish rag. Looking up, I saw the hoist that held the animal aloft. As a matter of fact, the bear's blood had emptied into the garage's drain too.
"Who killed this bear, Dad?" Ronnie asks.
"A hunter."

My dad was Vernon Dean (1912-2001). Moreover, he also served in various roles for 43 years at Watoga State Park, nestled in the panoramic mountains of Pocahontas County.
The Search for Answers About the Black Bear
Now, almost 50 years later, this is the never-before-published story of the black bear. First, who killed this bear? Second, why? Third, what happened? Fourth, how? Fifth, when did this occur? Sixth, where did this take place?
Recently, I rediscovered a photo of my brother, Ronnie, and I crouched next to this bear. Notice that neither of us is smiling in this photo. Likewise, this image stoked my need to know more – a journalistic skill fine-tuned as a reporter with The Register-Herald in the mid-1980s.
I could remember parts of that day, but I didn't know the entire story.
"Humans can make mistakes; memories are notoriously faulty and humans are often biased," Ken Springer wrote in an article detailing the origins of the name Watoga.
Besides not wanting to rely solely on my memory, I made calls, sent emails and spoke to friends and family members who may have remembered what had happened. As a result, I received some leads and helpful information, but not the "end" story. Also, was there even a story to tell here?
Digging deeper, I contacted Suzanne Stewart, staff writer at The Pocahontas Times, in Marlinton. Similarly, a search of the newspaper's archives from 1970-79 for information about a bear being killed at the park came up empty. In fact, Bill McNeel, local historian and former editor at The Times, also did not recall a story being published about a Watoga bear death.
Undeterred, I kept searching for answers. Together with the memories of Richard and Jerry Dale, further details about the black bear emerge.
The Watoga State Park Superintendent and His Son
In 1971, Richard Dale was superintendent at Watoga and served in that role from 1966-75. Furthermore, Mr. Dale's son, Jerry, grew up at Watoga during that time. Jerry is a former sheriff of Pocahontas County. In addition to being a therapist for Pocahontas County schools, Jerry teaches psychology and criminal justice courses as well at Marshall University in Huntington, West Virginia.
Even now, at 94, Mr. Dale is sharp-witted and provides the final clues as to what most likely happened to that gigantic black bear.
The Untold Story of the Black Bear Unfolds
Many hunters camp at Beaver Creek Campground during small game season. Moreover, the 9,400+ acres of nearby Calvin Price State Forest provide hunting enthusiasts easy access to an abundance of squirrels, turkeys, deer, pheasants, and more.

In the early fall of 1971, two men pitch a tent at the rustic campground. Apparently, they begin bragging to other campers about killing a black bear. But, at this time of year, it was not bear season.
During this time, a concerned bystander at the rustic campground hear the man's account about killing the black bear. Because of concerns that the bear may have been illegally killed, that person promptly reports it to park personnel.
"When we interviewed this guy, he was saying that the bear had attacked him and that's why he killed it," Mr. Dale says.
Upon learning of where the bear had been killed, Mr. Dale and a group of four men began the laborious trek to remove the black bear from deep within the adjoining state forest, off a trail at the end of the airstrip. The most likely participants were Mr. Dale, Henry Burr, park employee, Bull Poling, local game warden, and my dad.
The Black Bear — "Quite the Endeavor."
"It was a huge bear. I am not sure of the exact weight," Mr. Dale states.

First, a small tree was cut, and the bear's front and back legs were tied to the ends of the hardwood. Then, with two men on either end, they were able to lift the bear onto their shoulders.

"Well, the first sapling that we cut — it broke because of the weight of the bear. So, we cut another, sturdier one. Getting the bear back to the park was a chore. Quite the endeavor."

Second, walking a considerable distance, the men carry the bear to the maintenance garage near the assistant superintendent's residence.

Third, a hoist-type system is used to lift the bear. Jerry Dale remembers that hoist well: "It's nothing mechanical. Muscle power. Slow moving – a few inches at a time and foot-by-foot going up. You could then lift it up or lower it down. It was strong enough, say, to even lift an engine out of a '57 Chevy. The hoist was tied to a big wooden beam that went across the garage."
The Consequences of Killing a Black Bear
Mr. Dale adds: "The man told me he'd always wanted to kill a bear and that he wanted to keep the hide." Not only is the man fined, but also he pays a replacement fee, Mr. Dale says. Additionally, no one interviewed could recall whether the bear was a boar or a sow, but gambling enthusiasts are placing odds that it was a boar based on the size of the bear in available photographs, most likely weighing in excess of 400 pounds.
"Entrance and exit wounds indicated that the black bear was running away," Jerry notes. "The entry wound was at the back end of the bear and the exit path was on the bear's front side. You don't give anyone an incentive to do anything like this ever again."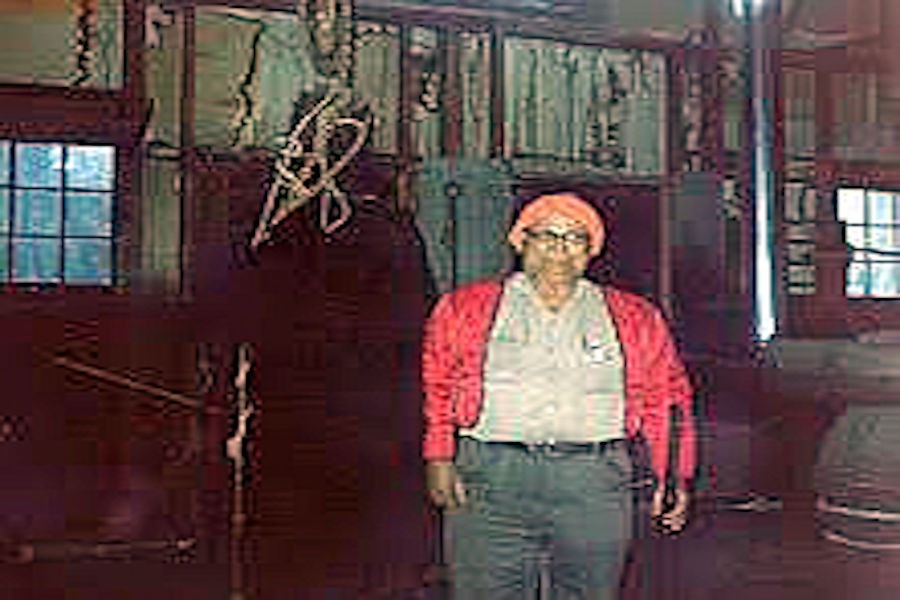 The End of the Black Bear Story — For Now?
As a result of the unfortunate demise of this bear, I had a "hands-on" education about West Virginia's state animal prior to the black bear's official designation in 1973.
Finally, Part Three will be selected creative endings from readers to the untold story of this bear. Tune in.

John C. Dean lived at Watoga for 16 years from 1960-1976, until his dad, Vernon C., retired after 43 years of service with the West Virginia Division of Natural Resources. He can be reached at .