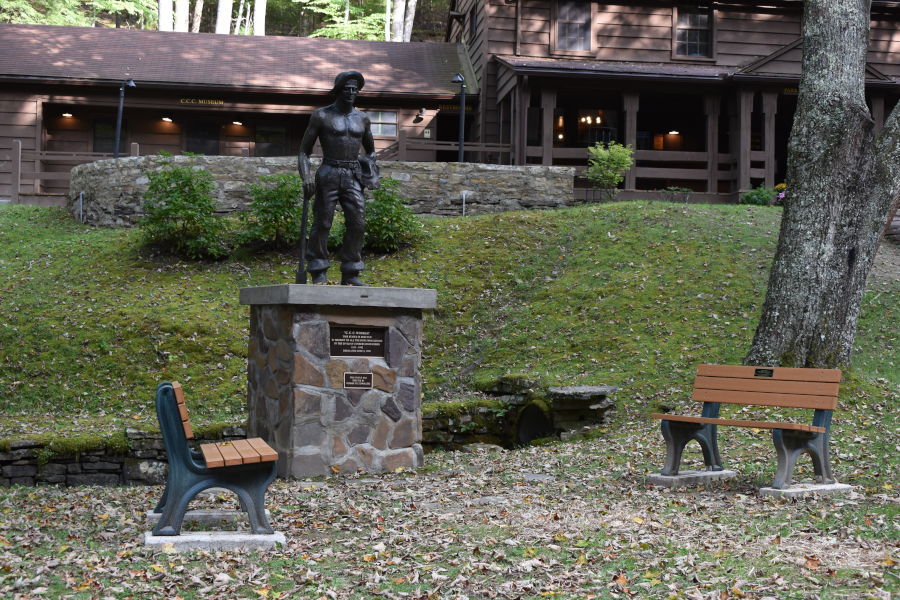 Benches honoring two former superintendents were installed in June as part of the Watoga State Park Bench Project. Both are situated near the statue honoring the Civilian Conservation Corps (CCC) with a nearby small stream flowing gently to Watoga Lake. In the background is the park's administration building.
Bench for Kermit McKeever
Kermit McKeever (1910-1995), oftentimes referred to as the "father of West Virginia's modern state park system," was Watoga's superintendent from 1944-1948.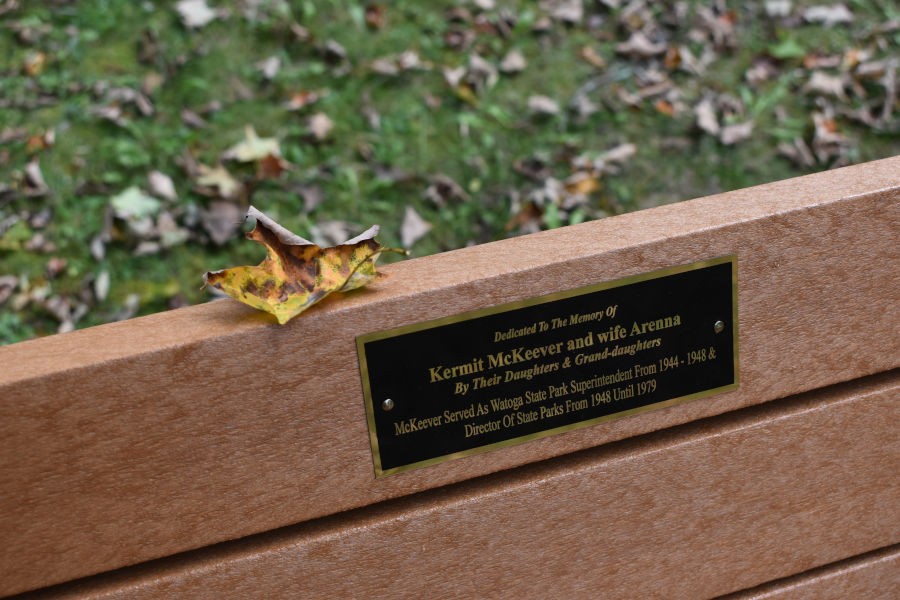 For the next 31 years, McKeever was the state's Parks Director. Furthermore, he was instrumental in expanding the number of parks from 14 to 34. During that time, 100 vacation cabins and nine lodges were built, golf courses and ski slopes were created, naturalist programs were established, and crucial infrastructure such as roads, bridges and utilities were completed. McKeever Lodge at Pipestem State Park is named in his honor.
"All of my family are very appreciative of the bench and also where it's located," said Charlotte McKeever Emswiler, McKeever's daughter. "I think that's because it was one of the parks built by the CCC."
Kermit and Arenna McKeever's bench was donated by Emswiler and her daughters, Jacqueline Hersch, Vicki Evans and Jennifer Abbott.
Bench for Richard Dale
Richard Dale, who turns 95 this month, devoted 32 years of service to other parks within the state including Audra, Cass, Cedar Creek, Holly River, Prickett's Fork, and Watoga. Likewise, he was the superintendent at Watoga from 1966-1975.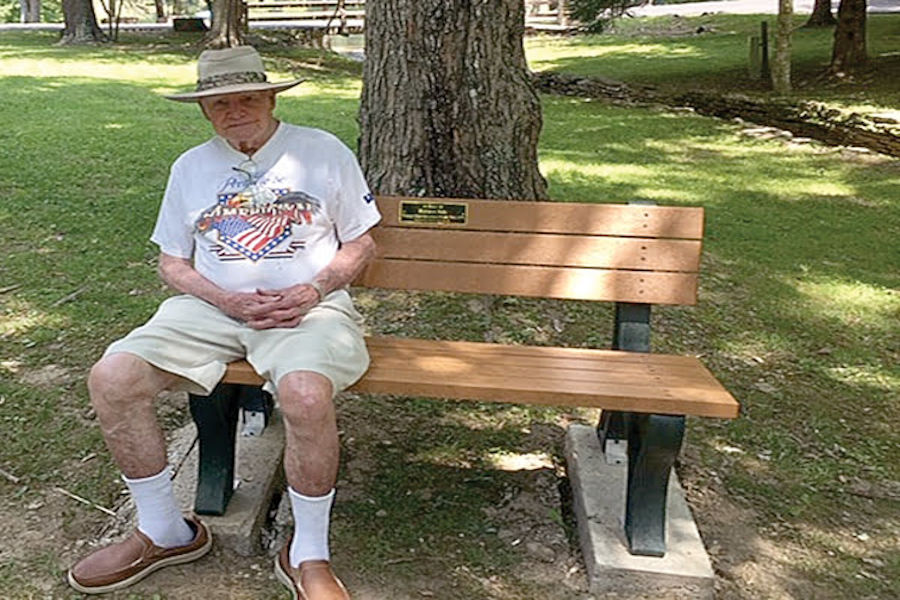 "I've been blessed with a lot more than I deserve," Dale told The Pocahontas Times, "and I'm thankful every day. I asked the Lord to make me a kind person."
Mr. Dale's bench was donated by Jim and Judy Meads of Glenville. In 1967 and 1968, Mead was the park's naturalist. Thus, the Meads began a friendship that has lasted more than 50 years.
"We setup our camper beside the Beaver Creek Campground's bath house and lived there for a couple of weeks," said Meads in a May 2019 article detailing his adventures as Watoga's park naturalist in 1967 and 1968. "Mr. Dale realized our accommodations were a little cramped and asked if we would like to move to a large room over the restaurant in the Administration Building, which was built in the mid 1930's by the Civilian Conservation Corp."
Dedication Ceremonies
Due to Covid-19, the dedication ceremonies for the Dale and McKeever benches have been postponed until 2021, according to Mac Gray, Watoga State Park Foundation Treasurer.
Plan Your Watoga State Park Bench Now
Want your own bench when you visit Watoga? Whether it's to remember a loved one or to mark your favorite spot at the state's largest and oldest park, our professional crew can assist you. And with more than 10,000 acres of pristine wilderness, Watoga has ample room for your bench.
Significantly, the Watoga State Park Bench Project has completed the installation of 31 benches throughout the park's 10,000 acres – 28 donated by park supporters. Further, three others have been provided by the Foundation.
Click here for more information about the Watoga State Park Bench Project.
Future Blogs About the Dales and the McKeevers
In the meantime, we will be writing more about Richard Dale's and Kermit McKeever's time at Watoga, including never-before-revealed details. Stay tuned.
About the Author
John C. Dean, a former journalist, lived at Watoga in the 1960s and 1970s. His dad, Vernon C., worked with Richard Dale and Kermit McKeever. More than 75 years later, the Dale, Dean and McKeever families remain friends.