On Your Mark, Get Set, Go!
In mid-August, Watoga State Park's Half Marathon and 5k Races return to West Virginia's largest state park.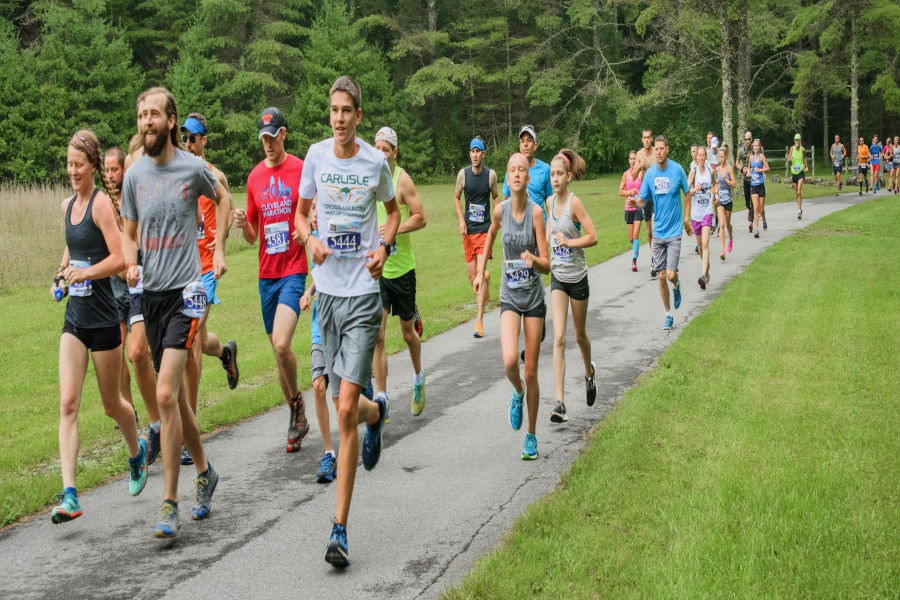 Running and walking enthusiasts prepare to be "on your mark" for details about the Sixth Annual Watoga State Park Mountain Trail Challenge Half Marathon and 5k events. Next, let's "get set" with August 14, 2021 as a key date on your calendar. Now, it's time to "go!" Tell your friends, family and fellow racing comrades. Of course, it is best to register as soon as possible. Early birds do receive discounts. Registration details are here.
All race proceeds benefit the park through the Watoga State Park Foundation, Inc.
Are You On Your Mark For Watoga State Park's Half Marathon And 5k?
So, when is this? Details? Where? Course descriptions?
When and Where: The races will be Saturday, August 14, 2021, Watoga State Park, 4800 Watoga Road, Marlinton, WV 24954.
Start and Finish Lines: Both of Watoga's Half Marathon and 5k Races start and finish at Watoga's Beaver Creek Campground. At the old airstrip here, Gov. William C. Marland would land his plane in the mid-1950s to stay at a Watoga cabin in the woods. These days there is plenty of space (acres and acres of grassy flat land) for runners to stretch, warm up, and spread out before the races begin.

What and When: First up is the Half Marathon. It begins promptly at 8:30 a.m. and ends at 2 p.m. The 5k starts at 8:40 a.m., ending at 2 p.m. We're almost ready to "get set" for the races.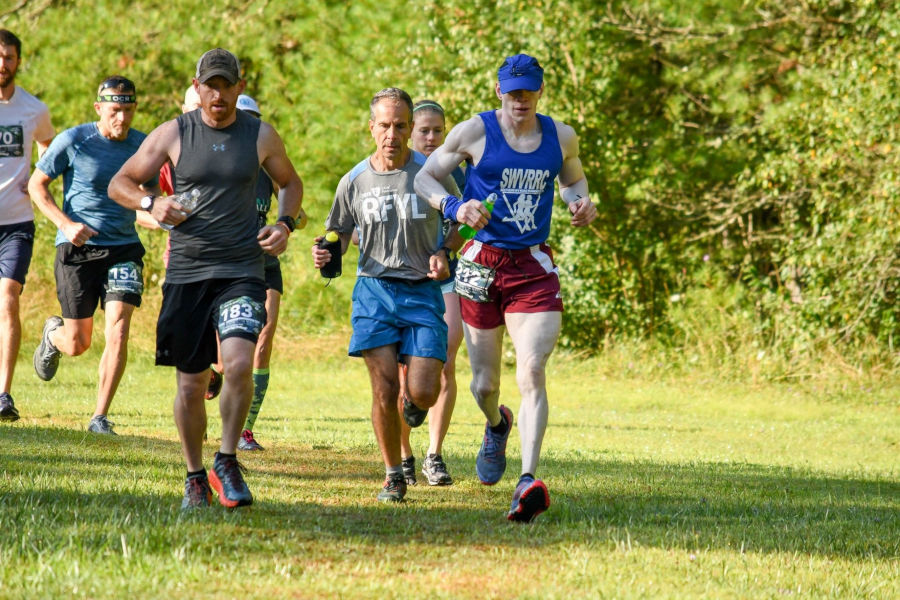 Course Details: The 13.1-mile half marathon course challenges runners. Experience Watoga's, beautiful shade trees, flora and fauna at elevations ranging from 2,560 feet to 3,200 feet. Occasionally, admire the uniqueness of part of Watoga's 40 miles of trails as you traverse along the Allegheny Trail, Busch Settlement Trail, and Honeymoon Trail to mention a few.

View the Half Marathon course map here.
Get Set By Knowing Your Course
Up next is the 5k, which is open to runners and walkers alike.
Course Details: Along this 3.1-mile route, you will experience the beauty of tall pines, hemlock trees, and other hardwoods before traveling west into the woods. Certainly, take in the clusters of dense rhododendrons along Beaver Creek as your course joins the Allegheny Trail, making this journey a breathtaking finish as you return to the airstrip.
See the route for the 5k here. Please note that the 5k course may be slightly modified from years past. Likewise, take a look at this 2019 YouTube video of racers, course challenges, and the scenic beauty that awaits you at the park's Half Marathon and 5k Races .
It's Time To Go!
Now that you've found your mark, became set, you're ready to go by deciding which race to enter. Here is the registration site for both races.
Regardless, it is not too early to explore lodging options here at the park and places to stay or dine.
Additionally, our volunteers will be along the trails and other unexpected places cheering you on, staffing first-aid stations and providing needed hydration at Watoga State Park's Half Marathon and 5k Races! Let's go, racers!
About the Author
While growing up at Watoga for more than 16 years, John C. Dean explored parts or all of the race routes, including the "Road Not Taken." Moreover, say hello to John along with Jack and Max, his two black Labrador Retrievers, along the wooded park's Half Marathon and 5k Races' panoramic vistas on August 14. He won't mind if you ask how he liked spending a day lost in Watoga's expansive woods. John is a journalist, writer, and legal editor. He also is a member of the Watoga State Park Foundation, Inc. Board of Directors. John can be reached at .